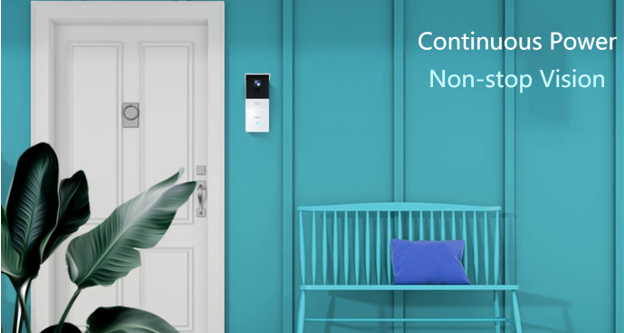 A wireless video doorbell is a device that serves the dual function of a doorbell and a security video camera. So, when the bell is rung, it transmits audio and video to the interior of the house, so you can get a live image or video of whoever is at the door.
It can also notify you when it detects weird/suspicious movements. A wireless video doorbell can also store past images and videos, so you can play them back and review them if the need arises. Furthermore, you can communicate with whoever is at the door, thanks to the in-built microphone and speaker attached to the doorbell. To start the smart home with a video doorbell, you can find a new life.
How Does a Wireless Video Doorbell Work?
A wireless video doorbell transmits data through a Wi-Fi connection. So, you connect the doorbell system to your Wi-Fi network at home.  Once a button is pressed, or once the wireless video doorbell detects someone, it transmits video and audio signals wirelessly to the receiver that is inside the house.
The wireless video doorbell comes with the main doorbell that is to be placed on the outside of your house. Then, you have the receiver, which will be on the inside of your house. You also get rechargeable batteries that power the doorbell.
With the wireless video doorbell, you don't need to run cables or wires from the doorbell to the receiver. Everything is conducted wirelessly for a smooth, seamless operation.
Wireless doorbells like the HeimVision Greets 1 come with a smartphone app that allows you to receive alerts, send signals and adjust your wireless video doorbell's settings.
How to Use a Wireless Video Doorbell Without Subscription?
If you don't plan on paying for a periodic subscription service, you can get a wireless video doorbell that allows you to store video on the SD card. This way, you can store and retrieve security footage without spending any money. You can also use the doorbell and enjoy its full functionality without spending money.
Wireless video doorbells like the HeimVision Greets 1 allows you to store media on the SD card. HeimVision also offers a month free trial for those that want to test the cloud storage option.
So, even without paying for a subscription, you can enjoy an entire free month of cloud service and upload with the HeimVision Greets 1.
Once the one-month free trial expires, you won't be automatically charged. Videos will be stored on the memory card until you decide to activate cloud storage on your own.    
You can also use the SD card storage option of the HeimVision Greets 1.  The HeimVision Greets 1 supports up to 128 GB SD card, so you can store a lot of media files, following which the oldest file will be deleted to create space for the newest files.      
What Is the Best Wireless Video Doorbell?
The best wireless video doorbell in the market is the Heimvision Greets 1 wireless smart video doorbell. It holds the remarkable distinction of being a smart device.
So, it is much more than just a video doorbell. It comes with artificial intelligent human and obstacle detection that aids it in reporting dangerous activities. You can also control the doorbell via your smartphone and monitor happenings at home even when you are out.
This product comes with several features that make it the best wireless video doorbell. Here are some of its features:
1080p video recording: The HeimVision Greets 1 has the capacity to record crystal clear video in 1080p resolution. This is much better than the 720p or 480p video recording power of many other video doorbells.
Night vision: Even when it's pitch black, the HeimVision Greets 1 can capture images and video clearly, thanks to its infrared sensor powered night vision capability.
Remote access: You can access the HeimVision Greets 1 whether you are at home or not. There is a smartphone app that allows you to access the device, set options and control it remotely.
Human detection with adjustable detection distance: The HeimVision Greets 1 can detect humans and alert you accordingly. The human detection feature allows it to capture people before they get to press the doorbell. You can also adjust the detection distance depending on how close your front door is to the road. This way, you won't get disturbed by unnecessary alerts on ordinary passersby. You'll only get alerts for your visitors.   
Real-time communication: The HeimVision Greets 1 allows for real-time communication without any breaks or lag. There are speaker and microphone attached to the doorbell so you can speak with or question anyone at the door. You can also leave instructions for deliverymen, vendors, salesmen, and other people. You can also store three pre-recorded messages for faster communication.  
Instant message alerts: The HeimVision Greets 1 comes with a HeimLife App that sends you automatic alerts immediately suspicious movements are detected.
Cloud and local storage options: You have two means of storing data. You can store data locally (offline) on an SD card, or you can store data on encrypted cloud storage. The cloud storage is encrypted, so you can be sure that only you have access to your video and audio recordings. Cloud storage is good for ensuring that you have a backup of whatever is stored locally on the SD card.
Weatherproof: The HeimVision Greets 1 is weatherproof against rain, snow, sunshine, and any harsh weather. It is a trusty device that will keep on working under any condition, and it won't let you down.
166⁰ ultra-wide view angle camera: The HeimVision Greets 1 has a 166⁰ ultra-wide-angle camera that allows you to see more things in range. So, nothing gets left out.
Lengthy standby time: The HeimVision Greets 1 comes with two rechargeable 9600 mAh batteries that can last continuously for up to 6 months. And if the batteries run out after using it for months, all you have to do is recharge them. Say no to buying new batteries every now and then. The battery capacity of this wireless video doorbell is about 50% larger than other brands.  
Multiple doorbells to one account: HeimVision allows you to connect multiple doorbells to one account, although 10 is the recommended number of doorbells to connect.
Related Post