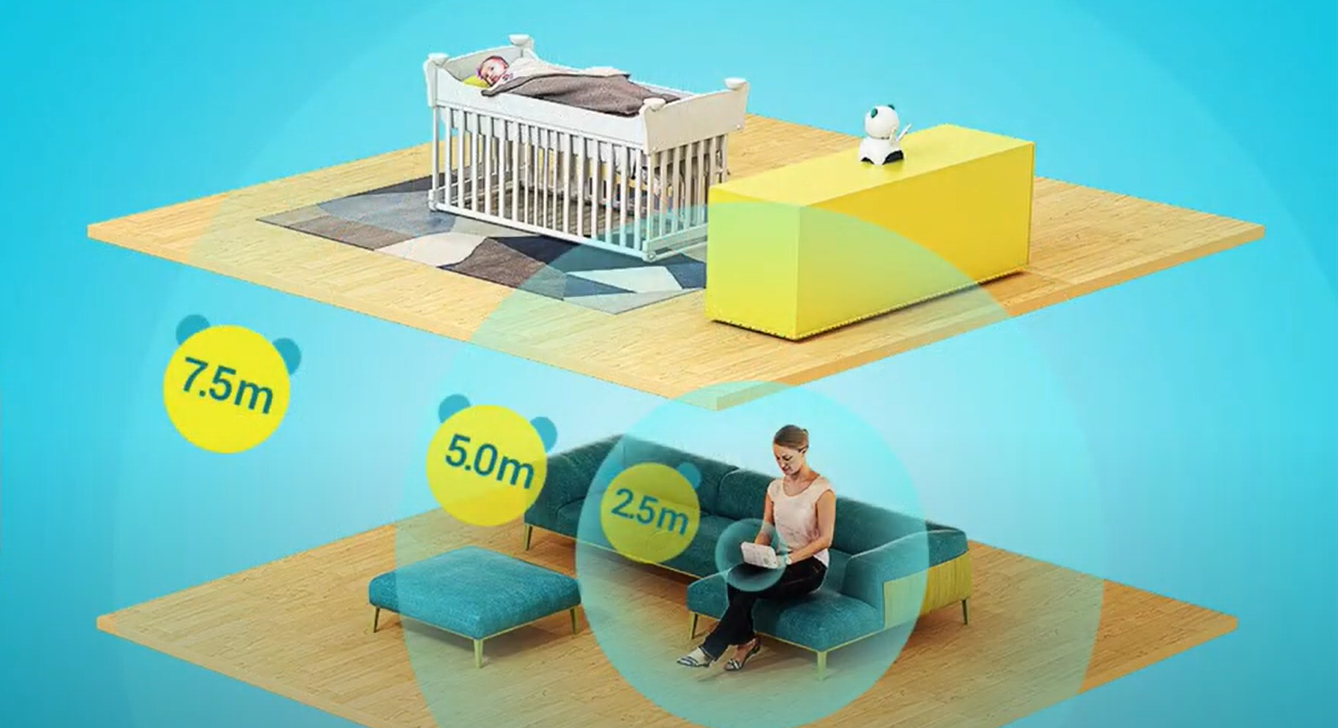 We cannot deny that there are certain intricacies associated with taking care of babies, especially for mothers. The most stressful part is watching over those cute little ones. It is why the Motorola brand devised means to alleviate the stress associated with catering for babies. Hence, the introduction of baby monitors.
With a Motorola baby monitor, parents can watch over their children from any part of the house. If you're a parent and you're in the kitchen, you can monitor your child's activities with a Motorola baby monitor. It only makes parenting simpler now.  
Top Five Motorola Baby Monitors

MBP855
The MBP855 is one of the best Motorola baby monitors the American tech company has released since its inception. A first glance at the equipment suggests its ease-of-use because the manual explains how to set up and use the equipment. The MBP855 Motorola baby monitor provides an avenue to remain vigilant while catering to your child. Its 5-inch screen is enough to cover your baby's activities without missing anything. Also, you can communicate with your baby and receive responses with its 2-way communicator.
Furthermore, the MBP855 Motorola baby monitor has temperature and motion sensors. When your child's room gets hotter or colder than usual, the sensor alerts you. In the same vein, the motion sensor alerts the parent when there is a movement close to where the camera is placed. That's not all; the baby monitor has a sharp night vision that lets people view images at night without any grainy speck. Therefore, you can monitor your child's activities 24/7.  
Even better, you can access the monitor remotely with a smartphone app (Hubble). It means that you'll get alerts on your smartphone without being in your child's vicinity. What more can you ask for?
MBP853

If you're on the lookout for a baby monitor that does not distract babies while doing its job, the MBP853 Motorola baby monitor is the one for you. Most monitors have blinking red lights, and they tend to distract children. The MBP853 is devoid of that. Also, the speaker is placed in the front. If you have any cause to speak to your child, he/she will hear whatever you're saying or singing effortlessly.
As expected from a quality device, it offers HD streaming. Therefore, you'll get high-quality images. Like the conventional baby monitor, the MBP853 Motorola baby monitor has a two-way communication feature. In addition, you can customize the type of alerts to get. You can watch your baby with the parent camera, your mobile device, or stream via browser with its Wi-Fi connectivity.
Besides, its night mode is bright, and you won't have any hassles watching over your baby even while away. We cannot ignore the fact that the baby monitor plays lullabies for your baby. It'll make your baby fall asleep quickly.
MBP845
Worried that power outage can affect the performance of your baby monitor? The MBP845 comes with an in-built battery that your monitor can run on when there's no power. With its five-inch screen, you can view everything going on around your baby. That's not all; you can zoom in on the screen to view tiny images. This way, nothing is left out of your view. Like the others, it has a two-way communication model. Besides, the Motorola baby monitor displays the room temperature where your baby is. You can determine if the temperature is suitable for your child or not. Also, its infrared night vision sharpens night viewing. You'll get clear images at night too.
We should mention too that you can get split-screen viewing when you purchase an additional camera. What's more, there are five lullabies available for you to choose from. There are different alert functions on the Motorola baby monitor too. It's definitely a worthwhile purchase for its owners.
MBP36
The signature feature of the MBP36 Motorola baby monitor is its ease of use. It is relatively easier to operate compared to other models. You should note that it is not internet-enabled. However, some features will encourage you to purchase the Motorola baby monitor.
For example, you can tilt the baby monitor remotely and zoom in if you need to view a figure more closely. Also, the camera placement is done well because one can view essential places.
Furthermore, you can connect your monitor to a larger screen like your TV or PC to view your baby's activities on a larger scale. Besides, the Motorola baby monitor has a sleep mode. The mode deactivates the monitor's operations while the baby is sleeping but comes on automatically when your baby makes a sound.
Moreover, there is an indicator that shows the baby's mood. There are different colours for each mood: green for the baby's happy mood and red when the baby is crying.
MBP33XL
Not many baby monitors have picture-in-picture viewing, but the MBP33XL Motorola baby monitor does. It means that your video can overlap another image.
Apart from that, the baby monitor has a range of up to 1000ft. If you ever go out of range, you'll get an alert immediately. Likewise, the night vision is in a low light level mode. You can view your baby's activities at night without straining your eyes.
With the room temperature display, you'll see how hot or cold your baby's room is and if it is suitable to stay in. That's not all; the two-way communication system works well because the microphone picks sound and doesn't produce distorting sounds.
Likewise, the Motorola baby monitor can be expanded with up to four additional cameras. If you desire more viewing, you can purchase more cameras. Additionally, the baby monitor works on battery for over 9 hours after a full charge.
Best Alternative of Motorola Baby Monitor
HeimVision HM136
For families who wish to view images from different rooms on a monitor, the HeimVision HM136 is the perfect choice for them. While unpacking, you'll notice that there is only one camera included. However, you can purchase more.
The five-inch screen packs a 720p resolution that produces clear images in both the daytime and night. The camera covers almost everywhere in the room because it sports a 355-degree monitoring feature. You do not need the internet to connect the camera to the monitor.
Furthermore, the microphone sensors alert you when your baby starts crying or is awake. Also, with the two-way communication feature, parents can hear their baby's voice and communicate simultaneously.
HeimVision HM136 baby monitor has a lullaby feature that plays music for the baby to entice him/her to sleep. You don't have to go through that stress as a parent.
It is also noteworthy that the baby monitor has a range of up to 1000 feet. That's quite a range for a baby monitor.
One peculiar feature that deserves mention is the feeding reminder system. The system reminds parents when it is time for their babies to eat.
The HeimVision HM136 is an excellent alternative to any of the Motorola baby monitors. It offers great value for its price.    
Basic Features
5-inch screen with 720P resolution
HD graphics
Night vision sensor
Room temperature sensor
1000-foot range
Five Lullabies
Two-way communication feature
Feeding reminder system
Related Post