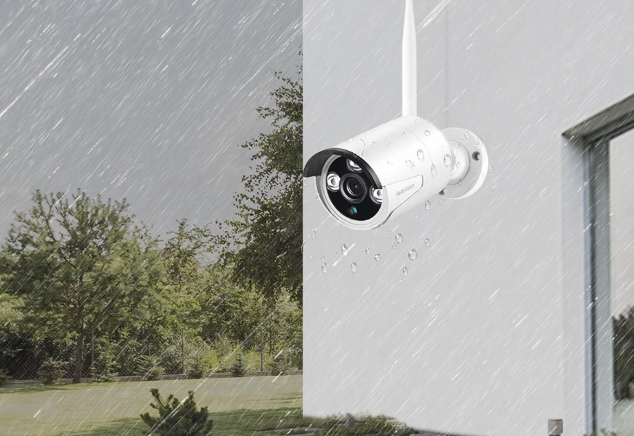 Many people believe that only people who live in large, fancy homes require outdoor security cameras. However, this is not true. Regardless of the type of accommodation, you are currently living in, you want to know that your home is safe, whether you are home or away. Today, there is a large variety of smart-home technology that allows consumers to take their home surveillance into their own hands. Entering the world of home security cameras can seem daunting because you want to make sure that you choose the right device for your situation; however, this does not need to be the case. Read on to find out how to choose the best outdoor security cameras to protect your accommodation and how it works.
Where Will the Recorded Video Be Stored?
If you have chosen to have a camera that is recording video, knowing how you want the video to be stored is essential for ensuring that you are choosing the right security camera. At present, wireless outdoor security cameras are the most convenient. One standard option is to use an SD card. The downfall of this choice is that when the memory card is full, no more content can be saved.
Another common choice is cloud. This option often allows for loop recording. Using loop recording means that you do not have years of data taking up space on the cloud. Instead, it will be overwritten after a period specified by the user, usually every seven or thirty days.
How is Your Security Camera Powered & Connect to The Internet?
Something that many people overlook is how they are going to get power to their outdoor security camera. With today's technology, many options no longer need to be plugged into a power source and are wire-free. The most significant advantage of this is that your camera will continue working even when there is a power outage. For example, the HeimVision HMD2 comes with a 6000mAh rechargeable battery that is advertised to last up to four months, if you are using motion recording. If you choose to record twenty-four hours a day, the HeimVision HMD2 has an optional solar panel that can keep your camera continuously charged.
The same is also valid for internet connectivity. While some options will require an ethernet cord to access the internet, other options come with Wi-Fi capabilities. The ability to connect to Wi-Fi will allow you to easily mount your security camera wherever you need to without worry. Another advantage of a wireless option is that you will be able to move your security camera around your home without the worry of cords being long enough. This is beneficial if you decide that you want to change the field of vision that your camera is using.
What Should I Look for in An Outdoor Security Camera
Now that you have an idea of why you want an outdoor security camera, and how you are going to power and record video, there are a wide array of additional features to consider. Choosing a camera with the right assortment of features will help ensure that you are completely satisfied with your purchase.
Field of Vision:
Knowing the general area that you want to be covered by your outdoor security camera will help ensure that you do not purchase one with a field of vision that is too narrow. The HeimVision HMD2 is unique in its wide 130 degrees viewing angle, which allows you to see more of your home and property. A camera with a broader field of vision means that you will not need to purchase multiple cameras to cover an area.
Audio Capabilities:
A security camera is not always just for viewing what is happening on your property. Some security cameras, like the HMD2, include two-way audio, which allows you to both listen in and communicate back through the built-in speaker and microphone. This feature can be used directly through your phone. Hearing a voice is often enough to scare away any potential burglars or even animals near your home.
Night Vision:
If you are planning on using your security camera at night, night vision capabilities are essential. The HMD2 contains a built-in night vision sensor that is activated as night falls. The visual distance of the night vision is thirty feet, which makes nighttime as safe as daytime.
Instant Alerts:
If you are worried about your home, or the safety of your family while you are away, immediate alerts are especially useful. The HeimLife app that comes with the HMD2 will instantly alert you on your phone when your security camera picks up movement and allows you to react immediately.
Weatherproofing:
You do not want your security camera to stop working because it rains, gets too cold, or gets too hot. The HeimVision HMD2 is IP65 Weatherproof certified, which means that it has been tested to endure the most extreme weather conditions.
Conclusion
Knowing exactly why you are getting a security camera is the first step in choosing the right one. Not all cameras come with recording capabilities, which means you can only see what is happening at a precise moment. Other cameras, like the HeimVision HMD2, offer options including only recording when movement is detected around the camera, or recording video twenty-four hours a day. You may think at first that being able to check in on your home will be enough. However, many people find themselves regretting this decision. If your home is broken into and you are not continuously recording, you rely on the hope that you will be watching the camera at the exact moment of the event.
Choosing an outdoor home security camera may seem daunting, but it does not have to. Knowing precisely what you want in your security camera can help you ensure that you select the one that meets or exceeds your needs. Having the best outdoor security camera system can give you the peace of mind you need that your home is safe while you are away.
Related Post