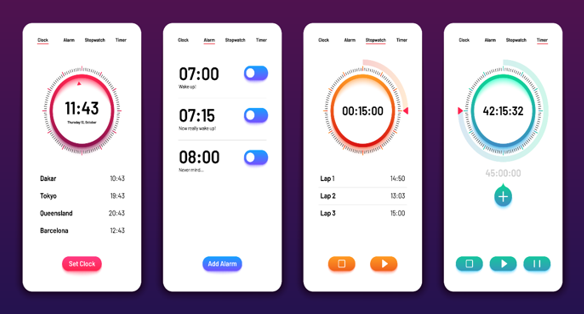 You might have used an alarm clock, but what about an alarm clock app? The main thing about the alarm clock app is the functions. Some benefit in a gentle waking manner, some wake harshly, and some use the latest technology. Depending on your needs, you will indeed find the best alarm clock app for you. Aside from what they offer, popular alarm clock like sunrise alarm clock and digital alarm clock come with a price; others are free alarm clock apps and online alarm clock. How do you choose the best alarm clock app for your home setup? We combined alarm clocks based on needs, availability, and cost. We offer the best solutions to your requirement; kindly read through the article and check if alarm clock apps are the best for you. And what is the best alarm clock type, it depends on your selection. 
Top 10 Alarm Clock App
1. Alarm Clock with Loud Sounds - Alarmy
Alarmy works with the cognitive response by making sure the user wakes up effortlessly. One of the applications is "photo mission." The photo mission works by ensuring the user takes a selected image to dismiss the alarm. Alarmy is among the loudest alarm app on the list, with many wake up the mission: math mission (users solve math to dismiss the alarm), barcode mission (users scan a barcode to dismiss the alarm), shake mission (user shake phone up to 999 times to dismiss the alarm).
Alarm clock with loud sounds is free, including premium features:
Wake up check: checks on you until you prove to have finally woken up.
Backup sound: ensures you wake after the first sound alarm.
Typing mission: users type motivational quotes to wake the brain, and prove sound awakes.
Ad-free experience: the free Alarmy clock app permits ads; premium does not.
Other features include day planning and dressing collections, following your lifestyle. Customization option enables soundtrack, background colors, snooze option, and vibration feature. Quick alarms set alarms based on previous records using artificial intelligence tactics. Lastly, the app is soft and easy to download.
2. Alarm Clock for Me
Alarm Clock for Me is a stylish clock with outstanding benefits. Alarm Clock for Me turns your smart device into a waking machine. It looks gorgeous bedside with themes and timing simulation. Unlike other alarm apps, the Alarm Clock for Me has unlimited alarm options, with individual set-ups.
Alarm Clock for Me has nightstand mode: a peak option of this mode shows when the smartphone charges. Other features include screen adjustment at night, gentle pre-alarm for an easy-soft morning wake-up, and app short for direct interactions with the clock setting: all active alarms.
3. Gentle Wakeup - Sleep & Alarm Clock with Sunrise
The digital application works as a sunrise alarm, waking users effortlessly. The light slows the breathing rate, improves the waking process with natural sound. The Gentle Wakeup - Sleep & Alarm Clock with soothing sounds from nature has home settings at a low volume which helps you to stay asleep through the night. The waking process slowly increases the light and sound based on settings, and wakes with zero effort using the application.
Other features include power napping, a setting for sleeping during the day. It features 20 minutes of sleep time: refreshed, energized, and keeps users fully awake: sleep timer, sleep aids, sleeping sounds, and weather conditions.
4. Easy Rise Alarm Clock
Easy Rise Alarm Clock is best for a deep sleeper. The digital app works by the combination of guided visualization, stretching, and breathing techniques. Other features include relaxing sound effects and inspiring music that leaves you calm, refreshed, and motivated for the day ahead. In short, the Easy Rise Alarm Clock keeps the user refreshed and energized, using physical appearances.
Sound functions include tranquil effects incorporated into meditations — enhances visualization and effectiveness. Personalized music from stores, an option to choose more than one track, and the shuffle feature mean every morning is different.
Premium features include:
Confident wake option
Weight Loss clock app
Happy morning meditations
Anxiety-Free
5. I Can't Wake Up! Alarm Clock
The alarm clock app works as a stimulator. It does not stop until you wake, typically for a deep sleeper. The app does not stop quickly due to the 8 tasks alarm system.
Math – do math equations to disarm the alarm
Memory – find pairs for each colored tile via a picture.
Order – set tiles in the correct order to disarm the alarm.
Repeat – repeat shown click sequence to disarm the alarm.
Barcode – you have to get out of bed to scan the code placed in the bathroom, kitchen, or just on your table!
Rewrite – carefully rewrite the randomly generated text.
Shake – shake your phone until you feel awake.
Match – connect word pairs – has a built-in capital-country collection, but you can easily make your own.
The alarm application features options that you would expect from an alarm clock, setting multiple alarms, and daily repeating or snoozing.
6. Sleep Cycle: Sleep analysis & smart alarm clock
The application tracks sleep for better health. The sleep cycle makes sleeping easy, and wakes up feeling rested. The sleep analysis tracks the sleeping cycle like snore tracking. The app monitors snoring with detailed information on the smart mobiles. The Sleep Cycle app has a unique design while the users are in a light sleep mood. Although, it requires more sound for a deep sleeper.
Other features include:
Bedtime analysis: track user's lifestyle with suggestions mode.
Alarm melody: with varying music options, both local and online music options.
Online backup: stores the alarm information as a backup.
7. Challenges Alarm Clock - Wake Up Puzzles
The application is simple to use, with puzzles and tasks. The Challenge Alarm Clock is hard to skip with the varying task. Some tasks include:
Picture challenge: uses a preselected picture using artificial intelligence to disarm the clock.
Memory game: the classic game is easy to use: an application of mind game and interpretation.
Retype game: write a list of characters accordingly; this disarms the alarm.
Snooze, vibrator, media, and dark mode.
8. Alarm Clock for Heavy Sleepers — Loud + Smart Math
Alarm Clock for Heavy Sleepers is loud, the best sleep cycle tracker for a deep sleeper.  The device functions as multiple alarms, a timer, and math problems for smart devices. Alarm Clock for Heavy Sleepers for daily and weekly for repeating alarms, set for intervals.
Individual Alarm Clock for Heavy Sleepers has settings: music options and real-time weather. It has an additional option for holidays. Set the alarm app to your country location; it recognizes holidays and skips accordingly — an alternative option for the working class. The gentle wake-up alarm activates in a light sleep mood. The app slightly rings and slows down, making the light sleep mood easy to access.
9. Sunrise Alarm Clock: Wake up naturally with light.
Sunrise Alarm Clock uses simulation sunlight to raise the users. The alarm clock uses the advantages of smart clocks and other traditional ones. Here, the light shines and keeps the users informed as a pre-alarm set. It has a one-time set-up for daily and weekly settings. Also, adjustable screens permit dimming and glowing, which favors the user's health more than other choices.
Sunrise Alarm Clock supports private and selected songs, including alarm sounds. A crescendo reduces the alarm's volume automatically, enabling comfortable sleep with a balanced health measure. The digital clock comes with recommendation settings: darken your bedroom as much as possible, adjust the wake-up time for 7-8 hours sleep, set a progressive sunrise duration to 30 minutes, among others.
10. Puzzle Alarm Clock
Puzzle Alarm Clock prevents oversleeping, following some strict options. It permits multiple alarms, and individual reminders work separately following standard settings. The puzzle option puts your brain together as you leave for work. The Puzzle alarm challenges with some tasks which are mandatory luckily take a few seconds to solve. Solving demands a cognitive response; the response shows your activeness: the working principle of the alarm clock.
Other features include endless snooze, promotes additional sleep space, and a non-stop alarm system. The puzzle Alarm Clock is the most rigid of all, and it does not stop until the necessary things are checked.
Related Post