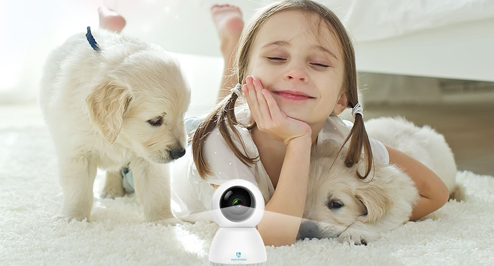 As a parent, it is the barest minimum to want adequate care for your baby.  However, it isn't entirely possible to be with a child all day. It is why alternative measures are being thought of to monitor babies regularly. One of such measures is a baby monitor. Traditionally, baby monitors have WiFi technology. However, there is another variant: non wifi baby monitor. That's our focus in this article.
How Does A Non Wifi Baby Monitor Work?
As the name suggests, a non wifi baby monitor does not require the use of the internet to function. It is a wireless baby monitor that offers parents or guardians the opportunity to watch over their babies without connecting to the internet. Not supporting the use of WiFi does not mean a non wifi baby monitor has limited functionality. While unpacking the average non wifi baby monitor, you'll find at least two cameras and a monitor.
The cameras are usually mounted on the wall, and they transmit images to the monitor. A non wifi baby monitor is a dependable monitor because of the striking features that accompany it. If you're purchasing a non wifi baby monitor like HeimVision HM136, you would realize that the images are always clear during daytime and night time. While your child is in a room, the cameras installed in the room transmits activities around the room to the camera. Therefore, you cannot miss anything while you're in other parts of your house.
Non-wifi Baby Monitor VS WiFi Baby Monitor
As expected, WiFi and non wifi baby monitors have some differences. However, it doesn't mean they don't offer the same functions. There are three criteria to use to measure the differences between non wifi baby monitors and WiFi baby monitors: connectivity, ease of use, and security.
Connectivity
From the name, we understand that non wifi baby monitors cannot use WiFi connectivity while the other variant can. It means that WiFi baby monitors require WiFi connectivity to send signals and transmit information from the camera to the monitor. Admittedly, the absence of WiFi may limit operation depth for non-wifi baby monitors.
Ease of Use
It is quite easy to use a non-WiFi baby monitor because you do not need any further technology asides the camera and monitor. Also, the connection between the two is seamless. It is not so for a WiFi baby monitor. Without an internet connection, it cannot work effectively.
Security
Since a WiFi baby monitor has access to the internet, it is vulnerable to attacks. There have been stories of WiFi baby monitors hack and malware attack. If this happens, your baby's activities can be tracked by intruders. For a device that is aimed at ensuring the security of a baby, the opposite is the case.
On the other hand, a non-wifi baby monitor cannot be hacked because it cannot connect to the internet.
Overall, it is more advisable to purchase a non-wifi baby monitor because of the efficiency and security it offers.
Top 5 Non-wifi Baby Monitors
Not many baby monitors boast of a 5-inch display monitor. HeimVision HM136 not only has a 5-inch monitor, but it also has a 720p LCD. Users will get daylight-clear images on the monitor.
Apart from that, the HM136 monitor has two-way audio set up. Your baby can cackle, and you can respond to various baby sounds via the monitor. We should mention the temperature and sound alarm that goes off when there is an adverse room temperature or when your baby makes any loud sound.
In addition, the camera boasts of up to 1000ft of range. You're sure not to miss anything with the camera. Its enhanced night vision is another signature feature of the HeimVision Hm136 because its night images are squeaky clean. Overall, the HeimVision HM136 is a bargain purchase for owners.    
DBPOWER Video Baby Monitor
The DBPOWER video baby monitor is suitable for parents or guardians that want to take some time off from watching over their babies actively. They might be away from the room, but it does not look like it with the baby monitor.
The DBPOWER baby monitor supports up to four cameras. Also, you can split the screen to monitor different angles of your baby's room. That's not all, it has a recording feature which captures essential moments of your babies, and you can watch after. You can also control the monitor to record videos automatically.
What's more, it supports up to 32GB SD memory card. It also sports an alert system that goes off when a baby is crying, the system's battery is low, or the room temperature is unsuitable for the baby.        
Summer Baby Pixel Zoom HD Video Baby Monitor
With a large 5-inch display, you're assured of watching every activity with the summer baby pixel zoom HD video baby monitor. The video quality is high too (720p). Also, you can control the camera remotely according to what angle you're trying to capture.
That's not all; you can watch your baby while he/she is sleeping with the sharp nighttime view. Furthermore, you can set up a sleepzone boundary. When your baby is out of the chosen area, the monitor will alert you.
The camera's maximum range is 800 feet, and there are up to six zoom options to choose from if you're zooming.
Infant Optics DXR-8 Video Baby Monitor
The selling point of this baby monitor is its interchangeable lens system. With this, you'd have total viewing control over your monitor. That's not all; the infant optics baby monitor monitors room temperature for your baby. It is essential because an adverse room temperature might be harmful to your baby.
In addition, the baby monitor has a two-way communication system. You can talk from one end of the house, and your baby will hear you. It'll sound like you're close by. We cannot ignore the audio-only feature. The monitor still projects audio even when the monitor screen is off. Finally, the battery lasts long and charging is easy.
LBtech Video Baby Monitor
Not many baby monitors come with two cameras. However, the LBtech video baby monitor does. Therefore, if you're looking for different angles, both cameras provide you such luxury.
Besides, LBtech monitor has a power-saving mode that makes it last for a long time. It also comes with alert features that let you know when your baby is crying or if the room temperature does not suit your baby.
That's not all, you can zoom in to view more details on the 4.3-inch display, and it has an automatic night vision that switches when everywhere goes dark.     
Related Post