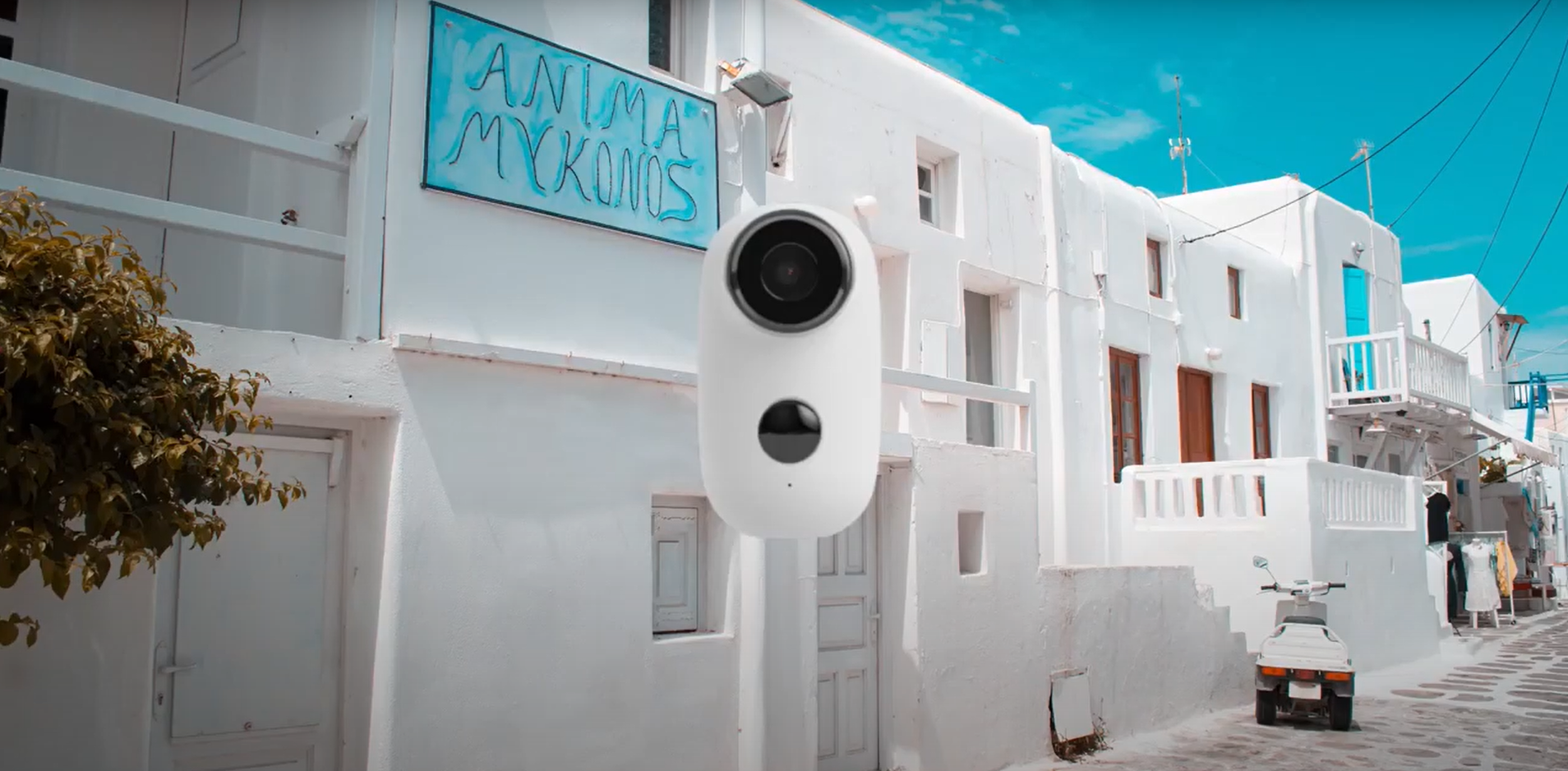 Solar security cameras and battery-powered security cameras are two choices for monitoring and surveillance of properties in remote and difficult geographical locations. While highly evolved devices are available in both categories, the difference lies in how they address their need for power. While solar is alright in the normal sunshine season, the security may look to be compromised when the weather is overcast with clouds and rains.
On the other hand, a battery powered security camera can work great in all seasons but they need recharging for which a source of electricity is required. But the best answer comes from devices that can tap both battery and solar power. 
How Does Solar-powered Outdoor Security Cameras Work?
Outdoor security cameras are pressing necessities these days in view of the growing security concerns. But how do you power them in a place where there is no supply of grid power? Solar powered security cameras are the answer to this kind of situation. They can be used to monitor remote and geographically challenging areas.
They can also be used in areas where running cables are either not practical or too expensive. Rural homes, farms, construction sites, barns are some of the places where the use of solar security cameras are more appropriate. Solar security cameras are linked with the internet through WiFi and they can be remotely accessed and controlled.
Solar security cameras are powered by a solar panel that forms part of the integrated system. These security cameras do not need any source of electricity or cables as they are directly powered by solar panels installed close to the cameras themselves. They use solar power to run the security cameras and you get a security system that does not bring you a monthly power bill or subscription charges.
Typically, a solar security system is sold in an integrated bundle that includes a solar panel, a security camera, and rechargeable batteries. Alternatively, you can buy separate DIY parts and assemble them into a solar security camera.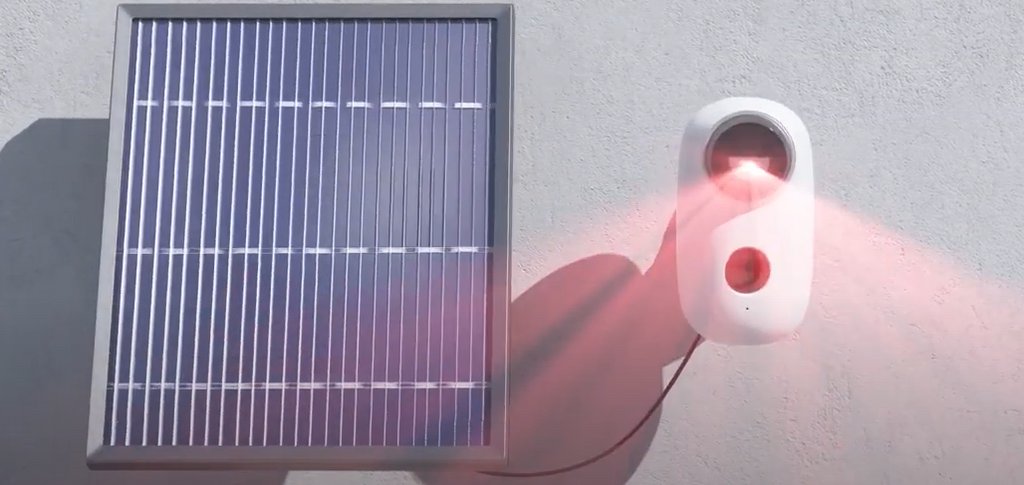 How Does Battery-powered Outdoor Security Cameras Work?
As the name suggests, the battery powered outdoor security camera is powered by batteries, and not by grid or solar power. For outdoor security cameras to be able to function smoothly without compromising its security features, they need to be high-quality and weather resistant. For battery powered security cameras, an IP (International Protection) rating of a two-digit number is used as a standard to denote their protection capabilities against rain, dirt, sunlight, etc.
The IP rating of 65 is considered to be the highest for weather-resistance qualities of battery-powered security cameras. These cameras can work without interruption or compromising its security features even in freezing and frosty winters. They keep a constant watch on your property no matter how harsh the weather elements are.
For a great battery powered outdoor security camera, it has to have a high-quality night vision camera that provides clear pictures of faces and movements in the night. Now some night vision cameras are equipped with starvation cameras that can identify real color human clothing, faces, and other discernible elements from a distance of over 30 feet.
While you can install these security cameras just anywhere, you should consider placing them in areas covered by WiFi. This would ensure that your security cameras can be run and accessed by its App.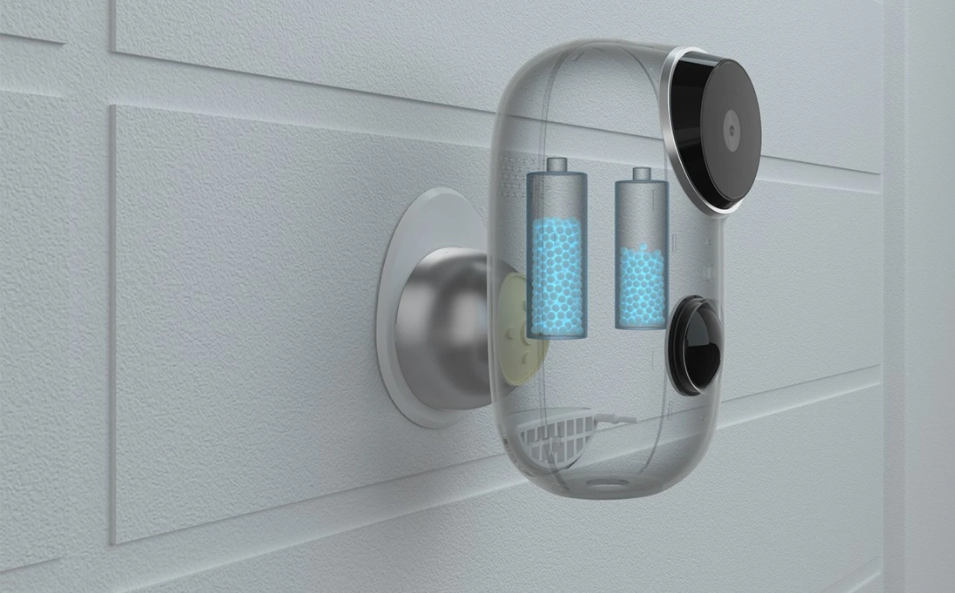 How To Control The Security Camera with A Smartphone App?
Most varieties of security cameras can be controlled by their Smartphone-based apps. The system is simple and easy. These security cameras have computer microprocessors inside them where all the audio and video recordings get stored. These data are also stored at a centralized physical or cloud-based server of the service provider. The Smartphone-based apps can access these data as well as the control panel of the security cameras. 
This means all the functions of the security cameras can be controlled through the smartphone. This includes talking to a visitor at your home even though you are physically thousands of km away. You can also check the feeds from the camera in real time.
HeimLink is a mobile app for HeimVision outdoor security cameras. This offers an easy-to-use format of monitoring videos recorded by your security cameras. You can run the app on your smartphone or tablet and can log into it from anywhere. You can control the device remotely and keep a tab on what's going on at your property.   
Which Kind of Camera Is Better : Solar-powered or Battery-powered?
While solar-powered security cameras have the advantage of running without any electricity outlet to draw power from, they have a disadvantage of not being able to work to their best when the weather lacks sunshine. On the other hand, battery-powered security cameras can also run without any electricity outlet nearby but would anyway need it to recharge its batteries, once in 2 to 4 months.
But the best solution comes from HeimVision's HMD2 security cameras which are battery powered but also compatible with solar power. This is a 100% wire-free security camera with 6000mAh battery. This is an excellent security camera that boasts bleeding-edge technologies such as IP65 waterproof finish, Full HD 1080P night vision, PIR Motion Sensor, SD Card, Cloud Storage, and 2-Way Audio.
HeimVision's HMS1 Solar Panels are compatible with the rechargeable battery of HMD2 Security Cameras. 
This battery and solar-powered security cameras have the following outstanding features:
- Magnetic Mount
- Wire-free
- Instant Alerts
- Long Standby Time
Heimvision HMD2 with 6000 mAh battery can last for 4 months on a single charge at the rate of 10 motion recordings per day.  What's truly great about Heim Vision HMD2 is that it is compatible with solar power. Its batteries can be charged by solar power by connecting to a solar panel. Heimvision HMD2 is easy to install and use. This outdoor security camera has a wire-free mechanism that takes roughly 5 minutes of setup. No tools are required for this. The system comes ready with a magnetic mount that allows you to install it easily just anywhere you want.
Full HD Security
HMD2 has a Full HD 1080P night vision camera that captures neat and clear recordings. You can watch the feed from anywhere in real time through the HeimLife mobile app.
Two-Way Audio
This outdoor security camera allows you to have a conversation with people at the door and you are just anywhere ready with the HeimLife mobile app. The security camera has a built-in speaker and microphone.
IP65 Weatherproof Finish
This security camera has been certified to be IP65 Weatherproof. This is the highest standard of weather-resistance for a battery-powered security camera. It can withstand extreme weather conditions such as sunshine, rain, and snow.
Final Thoughts
Solar powered security camera or battery powered security camera? Both these two types could be good choices according to your requirements. But the one that taps both solar and battery power such as HeimVision's HMD2 security cameras are the real winner of this debate, it makes the ideal balance.
Related Post