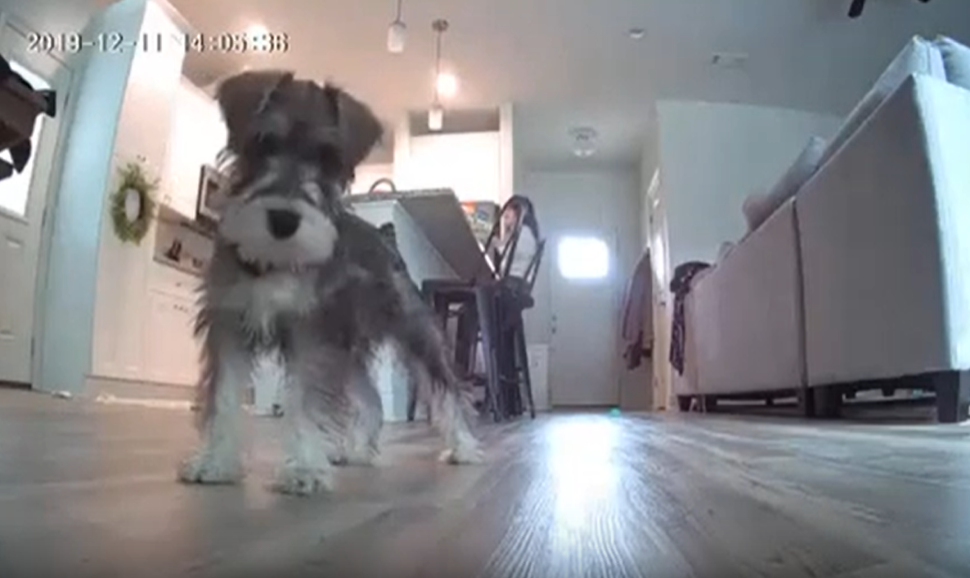 "Who's calling me? Sounds like Lily, but where is she? And what is this weird thing? It looks cute... Wait! That's not the point, where is Lily?"
This puppy was confused by the voice from this little thing. So, what's it? And why is it sending voices of Lily? It's our hot product HeimVision HMD2 surveillance camera!
For many homes, pets are our friends and family members. However, when we are out for work, shopping or anything else, our pets will probably stay at home. They might be happy and naughty to destroy things and pretend to be innocent when you come back, and they might be obedient but lonely, sitting at the door for you...
With HeimVision HMD2, you can watch your pets, back off the naughty ones and talk to them when you're not home. Let's see what makes HMD2 a temporary pet camera when you're out.
#1. Easy to move
As a temporary pet camera, flexibility is of vital importance. You may lock your dog in the living room or in the yard. It would be painful to unscrew a traditional surveillance camera from one place and fasten it at another place. HeimVision HMD2 is designed for your convenience. The magnetic mount of HMD2 makes it easy to move, you can take it off the mount with just a grab and place it on the floor, at the desk, or in the yard, etc. What's more, you don't have to worry if your pet bit the power cable because HMD2 can work wire-freely.
#2. Smart detection & alerts
Surveillance cameras may detect movements that are useless such as curtains moved by the wind. HeimVision HMD2 detects motions by its PIR sensor which detects infrared rays emitted mostly from humans, dogs and cats. With HMD2, you will receive alerts more accurately and can respond timely.
#3. Enabling you to talk to your pet(s)
When you are out and want to see your pet on a whim, you'll probably see that your pooch is chewing the couch, your shoes or roll papers... Luckily, you can back off the naughty boy through talking to him on your phone with HMD2. It's time to save your home!
#4. The ability to work outdoors
Sometimes the weather is great and your pet wants to stay outside. Still want to see the pet when you're out? Just place HMD2 there. It's ok there is no power strip and it's ok even it rains. HMD2 works wire-free and withstands rain, making pet surveillance a simple thing.
So, now you know that HMD2 is an excellent camera for looking after pets. And there are something else that are also crucial to make HMD2 an excellent surveillance camera: night vision up to 30ft, compatibility with solar panel, easy-to-use app, 130° wide angle, etc.
Related Post