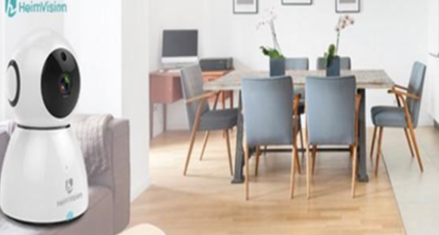 There are different types of security cameras to suit your home security needs. Generally, they're categorized into two; indoor and outdoor security cameras. However, within those categories are subcategories like battery-powered, wired, wireless cameras, and so on.
Are you looking to purchase the best security systems to prevent prying eyes from your property? Then you'll find this guide helpful. This post will explain the different types of security cameras that you can purchase for your home security. Asides from that, you'll also get a recommended camera in each category to save you the stress of research. With this, you've done a great task in the camera pre-buying process, and you'll be confident to make the right choice. 
Do you want to set up a security system to monitor happenings in your home? Then you'll need an indoor camera! These surveillance cameras tend to deliver a greater spectrum than traditional cameras. A single indoor camera can track an entire region in your home with a full 360-degree vision. On the other hand, a camera with a "fixed lens" allows you to permanently focus on a single region suitable for high-end video imaging, your sitting room, bedroom, and just anywhere in your home!
You should consider purchasing the Heimvision HM203 because; it's a perfect choice for an indoor camera. It arrives with whopping 355-degree coverage, smart night vision, two-way audio communication, and many more features that'll help monitor your home!
If you want to keep an extra eye on things happening outside your home, you'll need a unique type of security device: Outdoor cameras. One of the features that distinguish this type from the rest of the pack is the weatherproof features that protect it in harsh weather conditions.
They also deliver longevity with components designed to record broader outdoor views and adjust to the full spectrum of outside lighting conditions. You can watch over your yard and every happening with many choices provided by outdoor surveillance cameras (including remote control and tilt control, infrared vision, motion detection, and wireless connectivity).
If you're looking to get an ideal outdoor camera, the Heimvision HM241 is the leading device! It has IP66 weatherproof, night vision, fantastic wireless usage, and other things you'll need to monitor your surrounding!
Wireless Cameras
Imagine if you could set up security devices around your home without the hassles of connecting cables; convenience, right? That's what wireless security cameras give! Wireless cameras are an indispensable option if you need a camera that cannot wire anywhere. Thanks to the fact that most of our top security companies have comprehensive wireless networks, all kinds of security cameras – indoor, outdoor, video, motion, and more - are eligible for wireless models.
Wireless indoor cameras link with a Wi-Fi network and save the photos in the cloud storage. You can mount it quickly as they require no wire, but it needs to be connected to the electricity to relay their video stream. There are numerous wireless cameras to track your property, but we recommend the Heimvision HM243.  With it, setup and installations will be a breeze! It also has night vision, IP66 weatherproof, and other things you'll love!
Wired Cameras
If you don't mind calling up an expert to do the camera system installations, then wired cameras are a great choice! These types of security cameras can be fixed on decks and have a broad view. They're more dependable as you don't have to worry about the degradation of the Wi-Fi signals, unlike in wireless types. Asides from that, you don't need to stress in charging the batteries.
The Heimvision HM245 is a great device to purchase if you want a wired security camera system. It has eight port channels that allow you to add extra cameras (as you please). It also comes with a DVR, video monitor, and everything you need to set up a perfect surveillance home system.
Motion Detector Cameras
Do you always want to keep track of every visitor that walks around your home or property? Then you'll love to get a motion detector camera. This type of security camera arrives with a motion detection sensor that starts recording immediately it recognizes a visitor. This not only saves you innumerable hours of DVR storage but also offers a further degree of security by alarm if you suspect any unusual activity around your home!
IP Cameras
An IP camera is a digital video camera, much like a webcam, which enables communication through a network or the internet. It is a separate device with its IP address and a network connection for the transmission of videos, as opposed to a standard webcam. The IP camera attaches to the network much like any other regular network computer like laptops, tablets, or printers.
Doorbell Cameras
We suggest you buy a video doorbell camera if you want to track your front door. This famous outdoor camera style substitutes for your regular doorbell with a camera inside. When the camera senses movement or clicks the doorbell, it begins to catch and open two-way audio on your cell phone or smartphone so that you can see and interact with someone outside even without leaving the couch!
The contact is also documented if you do not respond to the ring so that you can see the video later. (The person will hear you but can't see you.)
Our Greets 1 Smart video doorbell is a great option to monitor home visitors. It has two-way audio communication, wireless chime, high-definition images, a wide view angle, and even remote access!
Floodlight Cameras
How would you love to get a device that can supervise your environment and also serve as lighting to the surrounding? These types of security cameras arrive with a large floodlight that turns on when the camera does. This feature assists them to get a clearer picture and also frighten intruders.
Doorbell cameras are a relatively new addition to security industries, but for a good reason, they have become very popular. Doorbell cameras have an embedded tracking camera that can be watched and accessed from any computer or mobile device. You'll get a live video stream from your porch area by the doorbell camera. They are anonymous, and even though you're not there, you can screen the guests.
Baby Monitor Cameras
Do you have a little one who you would love to always keep an eye on? Then you'll appreciate a baby monitor camera. These types of security cameras enable you to use visual and audio features to connect to your kid in a certain range. Many baby monitors provide two-way audio so your child can sign in to a new room quickly. You will also make sure your baby is awake or weeping using sound and motion sensors.
Get our Heimvision HM136, the perfect baby monitor camera to watch over your precious little one. It has two-way audio communication, temperature alarms, large monitors, and a host of other features that'll help your baby feel secured.
Fantastic Benefits of The Different Types of Security Cameras
There is a range of home surveillance and security opportunities for security cameras. Whatever the lens, video recorder, or other attributes, an outdoor surveillance camera may have these advantages.
Remote Video Coverage
Cameras are used today to monitor your protection camera on your mobile computer alongside mobile applications. When electricity is interrupted or activity observed, you can immediately get alerts. You can also capture, record, and view the video directly on your mobile in real-time.
Extra Peace of Mind
Perhaps the best advantage is the sense of protection and security you get from an alarm system. In addition to being safe, it will allow you to be more effective, healthy, and concentrated. The camera automatically transmits smartphone messages and tracks the movements for you to verify if any motion is observed. Perfect surveillance cameras provide a real-time view as well as dual-way audio for the frightening of intruders on your smart screen. Any professionally tracked home protection devices also alert the monitoring center for the motion-controlled operation of your security company.
Checking in on the family
Security cameras are not restricted to securing a home but will also allow you to check-in your children when working. Families with a lot of working parents frequently face problems when their little one leaves school in the middle of the afternoon. A parent will still manage their children with a camera protection system by using the system's remote monitoring feature.
Summing Up on The Types of Security Cameras
Getting a security camera system for your home or property is no longer a luxury but fast-becoming a helpful necessity. Intruders can come around. How do you keep track of everything happening even while you're at work? By getting a good security camera system!
However, before you proceed to get the best one for your home, what are the different types of security cameras to consider? We've answered all that! Gone through the hassles and have compiled this guide on the types of security cameras.
Getting an ideal security device is also a breeze as we've recommended some of the top-performers in the different types of security cameras. Now go ahead, and get them for your home!
Related Post