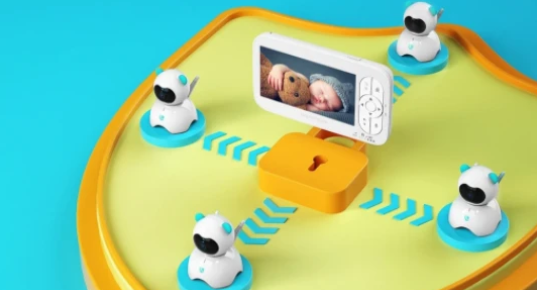 Baby monitors especially 2-camera baby monitor is a useful tool in the caretaking of babies. You can be in another room doing chores and still keep a watchful eye on your precious little ones. They also provide a sense of reassurance to parents and can be literal lifesavers.
There are different kinds of baby monitors; you can have audio-only or audio and video monitoring. Also, if your baby is an energy ball and moves around in more than one room or you have more than one baby that needs watching, 2-camera monitors are the best options for you. A monitor with a single camera will not be adequate to watch your kids.
Here, we will be talking about two-camera baby monitors. We will also be reviewing some of the best ones around. Kindly keep calm as things unfold.
Will the Two Cameras on the Same Monitor Interfere With Each Other?
The short answer is NO. The two cameras you have connected to your baby monitor will not interfere with each other.
Baby monitor interference CAN happen, but rarely from two cameras connected to the same monitor. The interference you might experience with your baby monitor will most likely be due to it coming up against other devices that use the same frequency as your monitor.
Radios, stereos, microwaves, WiFi routers, and cell phones can cause occasional interference between the monitor and the camera. If there is another baby monitor too close by using the same frequency as your baby monitor, there might be some interference.
Not to worry though, you can always move things around a little bit. Reposition your monitor until you find the right spot. If the problem persists, you might want to consider switching to a digital baby monitor.
As for the main question, NO, it is unlikely that two cameras connected to the same monitor will cause any interference. Most two-camera baby monitors do not have the split-screen feature, so you will have to manually switch from one camera to the other via your monitor.
How Do I Add a Second Camera to my Baby Monitor?
We have established that additional cameras can be useful for many reasons. Investing in an extra camera for your baby monitor gives you the option of watching multiple (or even one) kids in multiple rooms. Adding an extra camera to your baby monitor is as simple as ABC and is the same process as adding the original camera. We will be using the HeimVision HM136, one of the best 2-camera baby monitors, as an example. After you have purchased your additional camera, follow these steps:
Power on the camera and wait for about a minute until it is ready for pairing.
Press the menu button on the baby monitor to enter the menu page.
Click on the camera icon to go to the camera page, then click on camera 2 (or 3, or 4.) (HeimVision H136 monitor supports up to 4 cameras.)
After selecting the camera number you are connecting to, press OK. You will get the prompt 'camera is not paired.'
Press OK to start pairing.
Press 'Pair only once' on the back of the camera. Then you will get the prompt 'Paired.'
Your camera has been successfully connected to your baby monitor. You can repeat this for as many cameras as you would like to add. Remember that your baby monitor has a maximum number of cameras it can support (In the case of the HeimVision H136, four cameras top).
What is the Best Baby Monitor with Two (or more) Cameras?
There are lots of two-camera baby monitors available. However, we will be reviewing 5 of the best ones out there. Kindly read about them below and choose the one that suits you the most.
The HeimVision H136 is the best baby monitor with two cameras (and more). It is our favorite and most highly recommended two (multiple) camera baby monitoring system. It is rightfully so because of the many outstanding features we get for its very affordable price.
One of our favorite features is the big 5-inch LCD monitor. A 720p HD display aids the monitor. This beautiful screen helps you see your child(ren) as clearly as possible with so much detail. It even supports night vision to ensure that even when you dim the light to help your baby sleep, you can still see their every movement.
Also, the clear two-way audio is a favorite. If your baby is crying in their room, you can hear them from whatever part of the house you are in. All you have to do is press a button on the monitor, and you can calm them down with your voice. They'll know you are always with them.
It is also imperative that your baby is not too hot or too cold. This baby monitor has a temperature sensor that alerts you of any extreme temperature change. If the temperature changes in any way that could make your baby uncomfortable, you will get a notification immediately.
The HM136 supports up to 4 cameras that you can set up in different parts of the house. This is also useful when you have more than one kid. The camera can be panned 355° horizontally and tilted 110° vertically. If your baby has moved out of your vision, you can tilt the camera in all kinds of angles to give you a better view. Also, you can set a feeding reminder on the monitor. This way, you never forget when it's time to feed your baby. Beautiful lullabies are also preprogrammed on the monitor to help you send your baby to sleep land.
Furthermore, the HM136 uses no internet or WiFi, so the privacy of you and your baby are guaranteed. And with a range of up to 900 feet, it will be difficult for you to go out of range.
With a box of HeimVision HM136 two-camera baby monitor, you get a thank you note, an in-depth manual/guide, a stand for your monitor, a mount for the camera, and USB cables. Finally, you also get bricks to charge your camera and monitor and, of course, the camera and monitor themselves.
For all this good stuff, this product costs $125.99 only.
2. Vava Video Baby Monitor
The Vava video baby monitor is also a good option for keeping an eye on your baby. It is relatively new to the market and is well rated. It also has some useful features. It features a 720p HD camera to be connected to a 5-inch monitor screen. The monitor also supports up to 4 cameras and comes with an automatic night mode.
Also, you have the pan, tilt, and zoom option for an even better view of your baby. Besides, its camera also supports a 260° pan horizontally and 110° vertically. This means you can remotely turn the camera in various ways via the monitor. The parent can have the camera in the baby's room tilt from up to down, pan from side to side, and zoom in or out.
In addition to this, you get a two-way communication system with your baby. You can hear their every cry and coo and talk back to them. Also, the camera has a temperature sensor, alerting you when the temperature becomes less than conducive.
It costs around $159.99.
3. Infant Optics DXR-8 Video Baby Monitor
This is another commonly known 2-camera baby monitor. It has the regular baby monitor features like a 3.5 inch LCD color display. Smaller than most, but it's portable. The camera allows you to change the lens. You can switch from the zoom lens to the wide-angle lens and back to the original lens. This is in addition to a pan, tilt, zoom feature that pans 270° horizontally and tilts 120° vertically. Furthermore, it also supports up to 4 cameras.
Again, it comes with an extra rechargeable battery so that you never lose power. A two-way communication system also ensures that you can hear your baby, and your baby can listen to you right
Lastly, the DXR-8 baby monitor comes equipped with a temperature sensor. This sensor alerts you if the temperature in your baby's room goes up or down. With a range of 700 feet, you can have a little bit of space to do your own thing around the house.
It costs $165.99.
Although this product is commonly known, there are a few things you should keep in mind:
It does not have a perfect battery life, and the battery gets weak pretty quickly.
The range is not very good (only 700 feet) and is quite prone to interference.
The temperature sensor/thermometer is not very accurate.
4. CasaCam BM200 Video Baby Monitor
The CasaCam BM200 is another good 2-camera baby monitor. It has a good range of features that you will find quite useful. First, it comes with a 5-inch LCD touchscreen display and an HD camera. This combination ensures that you get a quality view of your child(ren) at all times. Again, the monitor supports up to 4 cameras and also has a night vision feature. This means your quality view remains even at night.
Additionally, the camera can be remotely controlled to pan 270° and tilt 110°. Also, the camera's temperature sensor alerts you when it's getting too hot or cold in your baby's room.
It comes at $149.99.
5. Summer In view 2.0
This is the last 2-camera baby monitor on our list, and it is the least expensive. It is a suitable device for when you are on a tight budget. The cost cut shows in some of the watered-down features, but it is still pretty good for its price. First, it features a 5-inch color screen and supports up to 4 cameras per monitor. Besides, the camera system also allows you to zoom in and out. Not only that, but it also has an automatic night vision feature.
Furthermore, its 800 feet range allows you to be a reasonable distance away from your baby. Moreover, the two-way communication system lets you talk to your baby while you're doing other things in the house. Lastly, it has a rechargeable battery with up to 8 hours of life.
It costs $79 only.
Related Post