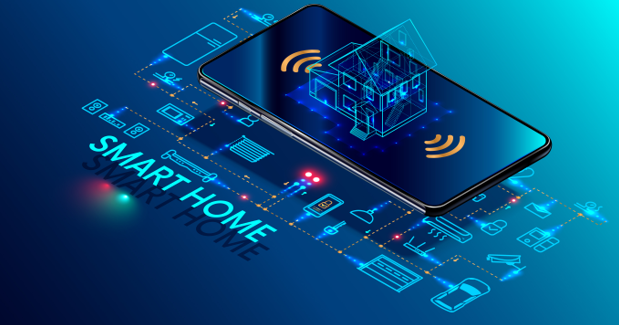 Technology is continually evolving the way we live, and one of the top places smart home technology is found to be making its most significant impact is in our homes. Decades ago, smart homes seemed to be a trend for the future. However, it has become the present with many smart home devices available today to be integrated into our homes. More than 90% of Americans own smart home devices become it simply makes running a home more accessible. There are various smart home devices and benefits to running a smart home that we will explore in this article. But to get started, let's talk about what a smart home is.
What Does Smart Home Mean?
A smart home is a home setup that allows you remotely control appliances and devices with an internet connection. This system could either be a mobile or a networked device. Smart devices are usually interconnected with the use of the internet. Due to this, the user can control the device's function from anywhere. This device could be the home's security access, lighting, TV, temperature, and so much more. Smart homes make use of internet-connected devices to manage and monitor home appliances remotely.
Smart home technology is also called home automation, and its primary purpose is to offer comfort and efficiency. The smart home is an integral part of the internet of things (IoT); the devices and smart system works together to same usage data together and automate actions based on the user's preference. Smart home devices can be easily controlled from any location and are usually operated via a mobile app. Sometimes, these smart devices communicate information to other home devices to meet the homeowner's need. This process is called interoperability; this is why an alarm system goes on when the shutter gets closed. The whole point of a home being referred to as a smart home is because of interoperability.
Smart home systems usually have a central control; they could either be smartphones, laptops, or game consoles. When installed on the device, the homeowner can then create various time schedules for each change to take effect. They are also equipped with self-learning skills – that's why they're called smart home devices. These devices learn the users' schedules so that they can make necessary adjustments. Smart home devices usually monitor processes in the home without being controlled by the users. This feature mainly depends on the programming basics and the scenario it is being used.
Smart home devices can either be wireless or hardwired, although it is easier to install wireless systems. Wireless devices are also known to reduce electricity use which will help to reduce energy costs significantly. There are many benefits to be enjoyed when you use home automated devices from top brands like Heimvision. Not only does it increase security in a home, but efficiency is another reason why there has been a notable increase in the use of smart home technology.
With smart home devices revolutionizing the way we live, you would be surprised by the number of available smart home devices you can integrate into your home. Below are some popular smart home devices to make a living much easier for homeowners.
Smart Thermostat: Smart thermostats are changing the way we heat our homes. These devices usually come with movement sensors which they use to gather data. The data accumulated is then used to adjust the home's heating.
Smart Doorbell: Another revolutionary smart technology is smart doorbells that allow you to see who's at your door without you moving an inch. Top brands like Heimvision offer smart doorbells that come with a camera and a speaker. Sometimes, you can even save a short clip from these doorbells.
Smart Smoke Detectors: Every home needs one of these – it is an effective way to protect your home from fire dangers. It will inform you where your home's risk is, and some can detect how fast a fire is spreading.
Smart Lighting: Sometimes, when the smoke detector detects a fire, smart lighting will light up a safe route out of the home. However, that's not the only reason they are popular. You can use a smart lighting system from anywhere, and you can even connect them to your smart hub and tell Alexa to turn it on and off. Some smart lighting can cut down on energy bills for you.
Several other smart home devices like smart leak technology, smart security solutions, smart control plugs, smart air-con unit, and many more exist. These smart technologies will take your home to the next level and upgrade your living standard.
Choices for Smart Home
When choosing smart home devices, there are many available smart home brands to meet your needs effectively. A famous brand for all your smart home devices is Vivint – it's your one-stop for all things smart technology. Vivint is renowned for its smart camera system, smart lighting, doorbell, lock system, and many more. Heimvision is a leading brand for smart home products; its focus is on upgrading your security solutions with smart technology. Philips Hue is another famous brand that offers a smart lighting system. Philip Hue's lighting system provides more than convenience; you could also use it to set scenes. Like Heimvision, NetGear is another smart home brand that offers smart cameras for home security. They also feature smart doorbells and a lighting system to upgrade your home security.
Advantages of Smart Home
Using a smart home has many advantages to offer you; it is the best option to take your home to the next level. Smart home technology can transform most of your home appliances and ensure your devices keep up with your lifestyle. Below are some of the advantages of a smart home:
Cost-Efficient
One of the top advantages of using a smart home is that it saves on energy bills. Most smart home devices connect to your Wi-Fi network to be able to run efficiently. If you're using a smart thermostat, it can monitor energy usage and make necessary adjustments. These adjustments will help you cut down on energy waste without necessarily sacrificing comfort. Smart home technology also allows your system to operate when you're home. This way, everything is off when you're not home which leads to lower bills.
Increased Comfort
One of the selling points of a smart home is the advanced comfort that comes with it. Technology had improved from when you needed to press physical buttons for your appliances to work. Now, you don't need to move an inch to be able to operate your devices. You can make necessary changes remotely or, better still, set them to work independently. A top example of improved comfort is with your smart thermostat that monitors weather conditions and makes necessary adjustments. This device comes in handy in seasons when temperature changes are widespread. Smart lighting is another obvious example of the increased comfort offered by smart home technology. You can turn lights off remotely or set them to sense when they're not required automatically.
Enhanced Safety Measures
Many smart home devices are designed to improve the safety of your home. A top example is Heimvision's smart home doorbells that comes integrated with a camera and speakers. This way, you can see who's at the door without moving an inch. Some of these smart doorbells allow you to save clips of the video captured online. There are also smart lock systems, smart car guards, and smart camera systems. Smart lighting also helps to improve security in your home. Instead of leaving the lights on continuously to put off burglars, you can set it on a timer to go on and off intermittently. This setting is far more believable and will also help you cut down on energy costs. Your Heimvision smart camera system can run for hours on ends or for a set duration. It can also automatically save long videos online that you can access whenever you want.
Improved Efficiency
Smart home technology has also bridged the gap between the digital and analog parts of our world. This way, a smart home offers an efficient and sustainable lifestyle. This advantage is apparent with smart timer systems in thermostats, air conditioning systems, and lighting systems. These smart home devices can be set to automatically run on set schedules to ensure the home is adequately run. A smart home is efficient and offers a sustainable lifestyle. This level of efficiency is driven by the centralized control that comes with smart home technology. Since you can have full-home connectivity by connecting all devices to your Wi-Fi network, you can control your appliances seamlessly. 
Final Thoughts
Nearly every physical aspect of our lives has been infiltrated by technology, but it is usually for the best. With the introduction of technology into the domestic space comes smart homes with many benefits. Many smart home brands provide smart home devices with advanced features to make a living far more comfortable. The most intriguing part about smart home technology is that it saves you just enough time to focus on other pursuits. Smart home devices are sure to see advancements in the future to help improve living standards. With the flexibility, efficiency, and convenience smart home devices offers, we can't wait to see what the future holds in store for smart homes.
Related Post