Heimvision HM241A Home Security Camera System is a 'super' security camera system that is designed to keep the home under tight surveillance. If you are wondering what the key features of this security camera system are, or what the benefits are to the users, then look no further.
This is because we will be making an in-depth analysis of this camera here. Besides, with the analysis, you'll be able to make an informed decision about the camera.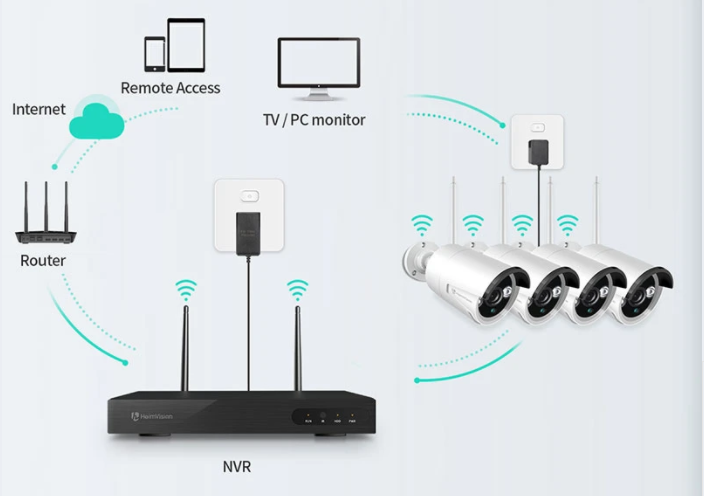 Advantages of Heimvision HM241A
Heimvision HM241A Home Security Camera System has some advantages and features. We will be highlighting some of them below.
1.   FHD Resolution and Digital Noise Reduction
The Heimvision HM241A Home Security Camera System features a full HD resolution that ensures that the monitor displays a crispier and clearer video. It also has a digital noise reduction feature that makes the video clearer.
Furthermore, this security camera system uses 2.0-megapixel bullet cameras. These further ensure that the camera captures footages at very high quality. Besides, with a combination of sharp cameras, HD resolution, and digital noise reduction, rest assured that you will be seeing footages in super clear form.
2.   Motion Detection
The Heimvision HM241A is capable of recording videos all around the clock. This means that it will continue to record videos in as much as the cameras are powered. There is also a second choice of letting the camera record in motion detection mode which records videos for 30 seconds after detecting movements.
HM241A uses superior motion detectors that can detect even the tiniest of movements. The motion detector can also detect movements within a 30-yard radius. However, with a motion detector like this, you might receive lots of 'false alarms' if you have the notifications linked with your phone.
To reduce situations where you will receive false alarms like this, you can customize the camera's detection range. This means you can choose to make the camera detection zone less than 30 yards. In light of this, not only will you get less 'false alarms', but you will also save storage space that will be used when recording videos.
3.   Instant Alert
You can link your phone with the Heimvision HM241A. When you do this, you will get smart email notifications when the camera detects motions. Besides, the email notification will also include snapshots. This will help you see what's happening in your home in real time.
Also, you can customize your detection plan and zones for each of the four cameras. This means that you can change the detection range of each camera to suit the camera locations. In light of this, you will get better control of the alerts you receive from this home security camera system.
4.   Night Vision
Any good security camera should have night vision. The Heimvision HM241A isn't different as it has exceptional night vision capabilities. First, the cameras are equipped with 850nm infrared LEDs. It also has a range and angle of 50 feet and 110 degrees respectively.
Because of this, you will find that not only will the camera record clear videos at night, but you get a wider angle too. Besides, the night mode automatically turns on when the camera detects low light. This means you do not have to worry about toggling between day mode and night mode.
5.   Video Playback
The Heimvision HM241A Home Security Camera System allows for remote viewing. You can access video recordings on your mobile device or computer at any time. All you need to do is to download the free IP Pro app on your phone or computer. With this app installed, you won't miss any second recorded from the camera.
6.   Waterproof
Outdoor appliances need protection against water or rain. This is why the manufacturers of the Heimvision HM241A made it IP66 waterproof. This means that the camera will perform well against heavy rainfall and water splashes. Moreover, this also means the camera can also serve as an outdoor security camera.
However, because the camera's waterproof rating is IP66, you should not submerge it in water. If you do this, you risk the destruction of the camera.
7.Hard Drive
Another improvement is that a 1TB hard drive will be provided with this home security camera system as well. It gives one more storage option for you, no matter which one you prefer, hard drive or cloud service. You can find both these two methods by HM241A which is really convenient.
How To Install The HM241A
With so many components in the HM241A's box, you might get confused about how to install it. However, we can confidently say that it is very easy to install and set up the HM241A Home Security Camera System. Check out the steps involved in setting up this device below.
Bring out all the appliances and accessories from the box. The package includes an 8CH 1080P wireless NVR, 4 x 960P wireless cameras, one 12V/2A power adapter for the NVR, 4 x 12V/1A power adapter for the cameras, a USB mouse, a network cable, and screws.

Connect the monitor to the 8CH 1080P wireless NVR using HDMI or VGA. Note that neither the HDMI nor VGA is included in the package.

Use the included ethernet cable to connect the NVR to the router.

Connect the mouse with the NVR

Use the power adapter included in the package to power the NVR

Use the power adapters included to connect all the cameras to a power supply

Finally, you can now start watching the live feeds from the computer.
Summary
Without a doubt, the Heimvision HM241A is one of the best home security camera systems out there and this is not without reason. Its multiple storage ways, FHD resolution and digital noise reduction features are quite impressive. We also like that the cameras are well built and can stand the test of time. 
Finally, we ensured that we made an easy guide on how to install this home security camera system. If you follow the guide to the letter, you will be able to install the cameras yourself without any worry.
Related Post