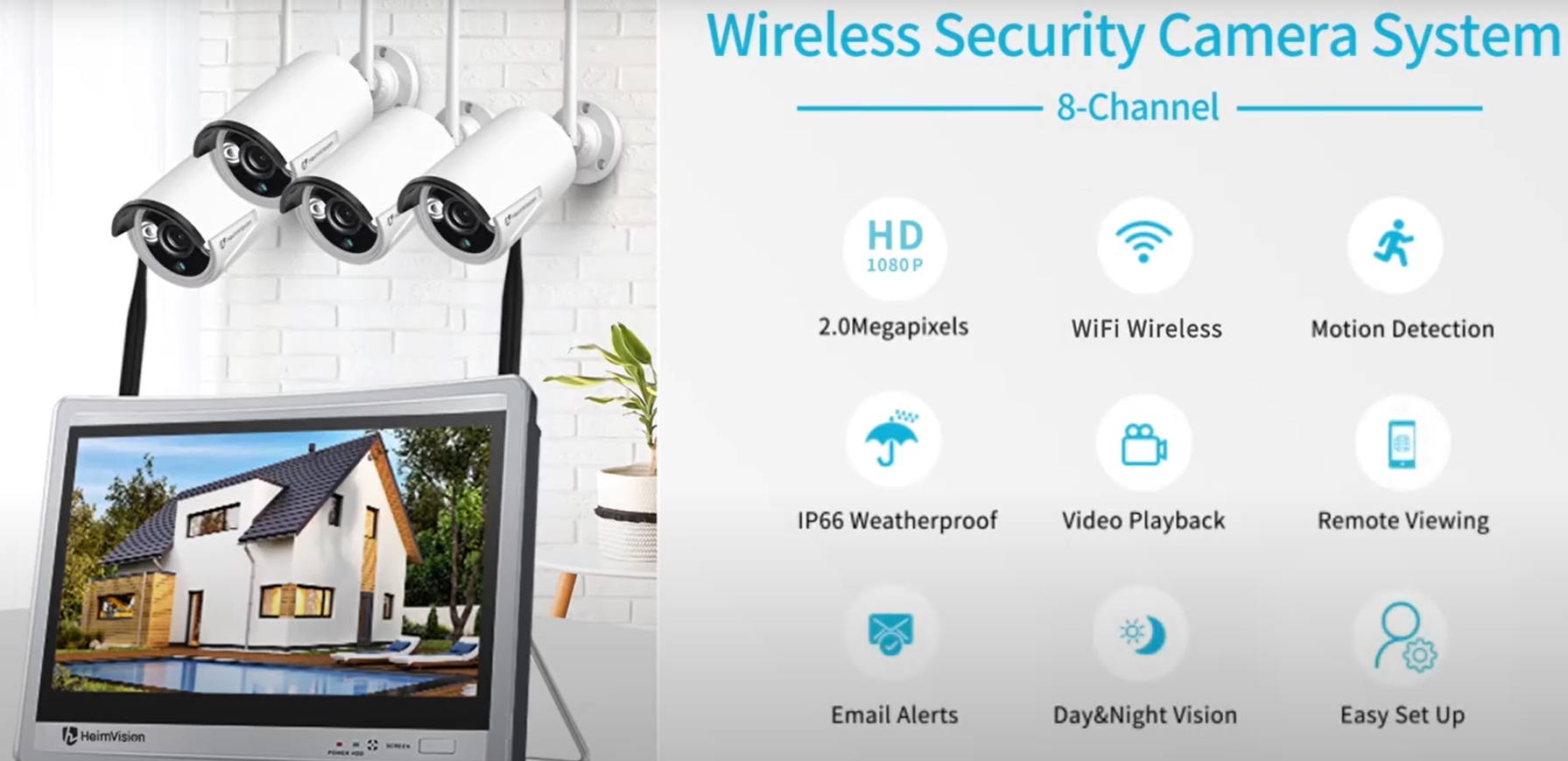 The HM243 NVR security camera system provides all the necessary features a security camera system should have. You will get to learn more about this impressive security camera system as things unfold in this article. let's start with NVR.
NVR- Network Video Recorder
NVR, which is an acronym for Network Video Recorder, is a system that records videos. NVR as a video recorder is connected to a computer network, and it then records videos directly from the IP cameras connected to the same computer network.
Moreover, since NVR uses IP cameras, rest assured that you will be getting top-notch features compared to analog cameras of DVRs. Some of these include smart-tech and artificial intelligence features like facial recognition and night vision.
NVR and DVR are different. NVR systems are capable of encoding and processing the video data at the camera. In light of this, the NVR system only stores the video recorded by the camera. But on the other hand, DVR processes videos at the recorder.
Furthermore, NVRs usually have exceptional video quality, especially when compared with DVRs. If your camera has a microphone, rest assured that your security camera system would record the audio to the NVR. Besides, this is because NVR uses ethernet cables and ethernet cables are capable of transmitting audio.
 Features of HM243
The HM243 wireless security camera system has some pretty impressive features. First, let's talk about what you will see when you open the box. The package includes significant components like NVR, 4 x IP cameras, 4 x 5dB antennas, ethernet cable, computer mouse, and adapters for the NVR and cameras. It also comes with a 12-inch 1080p HD monitor for viewing the camera's recordings. However, the monitor is not a touch screen.
The camera records at an impressive 1080P full HD with 2.0mp bullet cameras. In light of this, you are assured of getting exceptional video recordings with the security camera system. Furthermore, this home security camera system supports hard drives up to 6 terabytes. However, the hard drive doesn't come with it.
Another great feature of the HM243 NVR is its night vision. The camera has a night vision of up to 15m. The night vision is capable of recording explicit videos in the dark over a long distance. Again, its motion detection system is also impressive. It sends notifications with snapshots to your phone when it detects motions.
Lest we forget, you can customize the way it detects motions to suit your preference. In light of this, cases of receiving false alarms are reduced to the barest minimum. Again, the cameras included in this home security system are fully waterproof and dustproof. Because of this, you will find that water won't destroy the camera. Also, dust will not get into the cameras to reduce the camera's picture quality.
Setup Of HM243
The HM243 NVR Security Camera System requires no complicated process of connection. This is because this wireless security camera system comes auto-paired. Both the NVR monitor and cameras come connected. This makes the system 'plug and play'.
All you need to do is connect the system with a 24/7 power supply and internet to get 24/7 camera surveillance. Plug the NVR and cameras with the power adapter included in the package to power the security camera system. You also need to connect the NVR to the home router by using the included ethernet cable.
Moreover, we genuinely love this home security camera system, but it has a flaw, and this is because it lacks a hard drive. The system doesn't come with a hard drive, which means you need to buy a hard drive separately. However, the HM243 NVR security system supports a hard drive with a capacity of up to 6 terabytes.
When you get the hard drive, installing it is relatively easy. First, you will remove the cover from the back of the NVR monitor. Next, screw the hard drive to the cover and connect both the data cable and power cable to the hard drive. Finally, screw the cover of the NVR monitor back on it.
Usage of HM243 App
You can watch live feeds from your mobile device. Not only that, but you can also preview, back-up, and watch recorded videos over again with your smartphone. To activate this feature, all you need to do is download the Heimkit app and install it on your phone. This app is free and available on both android and ios devices.
After installation, launch the app and sign up if you do not have an account before. Fill in the cloud ID in the app (cloud ID is boldly shown at the bottom of the NVR's screen). Also, input your password in the designated area and tap complete to begin to enjoy live video on your phone.
Summary
Coming to the end of this article about the HM243 NVR Security Camera System, you will find that this home security camera system is awe-inspiring. Besides, with its 1080p HD camera recordings, its 15m night vision, motion detection, amongst others, you will be getting value for money if you purchase this home security camera system.
Related Post