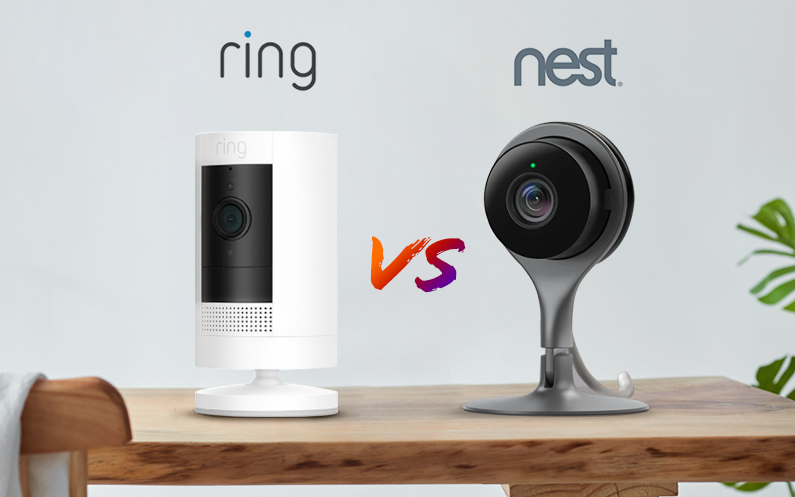 One of the best ways to ensure good security in the home is by using an indoor camera. The camera allows you to monitor what's happening on your premises when away in real-time. In light of this, there is a need to find great indoor cameras. There are many indoor cameras available to choose from, but we have a liking for Nest indoor camera and Ring indoor camera. These two cameras remain some of the best ones out there.
In this article, we will be making an in-depth comparison about Nest indoor camera VS Ring indoor camera. This article will make it possible to make a well-informed buying decision about the two cameras. 
Brand
Here, we will be talking about the Nest and Ring brand. You will get to know what each brand stands for. Besides, we will also write about each brand's track record and how they compare with competition.
Nest
Nest is a part of Google LLC. This Company deals with a host of smart home appliances. Some of these appliances include smart speakers, thermostats, smoke detectors, security systems, etc. The company was founded in 2010 and was independently operating before Google acquired them in 2014.
After the acquisition by Google, the brand has become the face of all Google's smart home devices. In light of this, Nest as a subsidiary of Google is now one of the giants in smart home tech.
Ring
Ring inc. is a smart home company owned by Amazon. The Company was founded in 2013 and was previously called Doorbot. After multiple years of making exceptional smart home devices, the company was acquired by Amazon in 2018.
Some of Ring's products include smart doorbells, smart alarms, smart lighting, and smart cameras. With Ring products, rest assured that you choose products from a company with a track record of excellence.
Design Appearance
The Nest indoor camera and the Ring indoor camera both have different designs. We will take a quick dive into the design of the two cameras in a moment.
Nest Indoor Camera
Nest Indoor camera has a distinctive appearance. First, the camera has a metallic color finish, which makes it pleasing to look at. Not only that, but it is also made of metal, which makes it a durable appliance. Also, the camera's lens is in a glossy, shining black plastic, which further adds to the camera's aesthetics.
Furthermore, you will find a rubber around the bottom of the camera. And at the center, you will find a magnetic base. This magnetic base allows for easy mounting of the camera on metallic surfaces. Also, it has a very flexible neck that allows you to turn the camera in any direction of your choosing.
Ring Indoor Camera
The most distinctive feature of the Ring indoor camera's design is how small it is. In comparison with its competitors like Nest, it is very small. In light of this, you can easily place it in a small corner for use. Also, it has a white finish with 'RING' boldly written on it.
Again, we like the camera's mount, which is fully adjustable. However, unlike the Nest indoor camera, it doesn't have a magnetic base. Furthermore, the mount rotates easily in all directions. In light of this, you can rest assured that you will be able to get a good view from any direction of your choice.
Setup
Setting up the cameras is quite straightforward. Besides, we did not spend up to 30 minutes on setting up each one of them.
Nest Indoor Camera Setup
The first step in setting up the Nest Indoor Camera is by downloading the Nest app and creating an account. There are many Nest devices available, so you need to tap Nest cam when prompted to set up your Nest indoor cam.
After this, scan the QR code, which is at the bottom of the Nest indoor camera. Select the location of your camera, and place the camera in the right position. Finally, connect the camera with a Wifi and begin to use it.
Ring Indoor Camera Setup
We had an easy time setting up the Ring indoor camera, and this process was completed in no time. First, you need to download the Ring app from Playstore or App store. After this, create a Ring account, but you can proceed to the next step if you have a ring account.
The next step is to tap Set up a device in the app and select Ring indoor camera from the different devices shown. After this, scan the QR code on the camera. Next, the app shows a video instructing you on the next line of action. Finally, you will hear a voice confirmation from the Ring camera that tells you that your camera has been set up successfully.
Video Quality
Nest Indoor Camera Video Quality
The Nest indoor camera features an impressive 1080p HD video. It also has a wide 130-degree angle view, which allows the camera to cover a wider area than most of its competitors. Impressively, the camera also has an 8x optical zoom, which is great. In light of this, you can easily zoom into videos to have a clearer view of details that you might have missed ordinarily.
Ring Indoor Camera Video Quality
The Ring indoor camera has a 1080p HD video, which lets you see video feeds from the camera clearly. We also like that you can easily zoom into the videos by pinching in and out of the screen. This zoom feature helps ensure that you do not miss any details from the camera's video feed.
Finally, the camera has a 115-degree field of view. And we can all agree that this is on the lower side.
Video Storage
Nest Indoor Camera Video Storage
Nest indoor camera doesn't have local storage, but Nest compensates for free three hours of cloud storage. Furthermore, they have a $6 per month and $60 per year for 30 days of cloud storage. If you want cloud storage of 60 days, you can also pay $12 per month or $120 per year.
Ring Indoor Camera Video Storage
First, unlike some other indoor cameras, Nest indoor camera doesn't support local storage. However, Ring offers a protection plan. You can either go for the Ring protect basic plan, and the Ring protect plus plan.
Ring protect basic plan goes for $3 per month and $30 per year. The Ring protect plus plan also goes for $10 per month and $100 per year. 
Price
Nest Indoor Camera Price
Nest Indoor camera has a starting price of $127. The price is on the high side, but it also offers great value for money because of its many features like artificial intelligence and excellent night vision.
Ring Indoor Camera Price
Ring indoor camera has one of the most competitive prices out there. The camera starts at $59.99, which we can all agree is a good price. With a camera priced this low, we expect that many people will be interested in buying it.
Summary
We have come to the end of this article on Nest indoor Camera vs Ring indoor camera. Each camera has its pros and cons, and depending on individual choice, both of them are great options. You can see the differences between the cameras in our article.
Besides, there are lots of other indoor cameras available to choose from. Some of them are Wyze Cam Pan, Arlo Pro Cam, HeimVision cam, etc. The list of indoor cameras to choose from is aplenty, and it will be great to check them out too.
Related Post