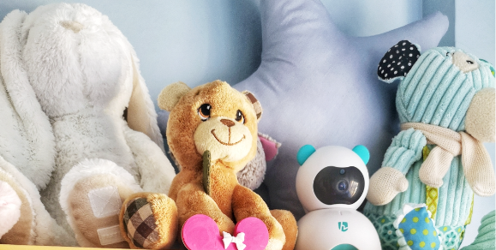 Babies are unpredictable. At one point, they're happy and giggling (a wonderful moment to watch), and at another, they're crying, probably to eat or to change diapers. Whichever one it is, one of the best ways to give your babies the attention they want, even while you're away, is using a Baby monitor camera.
These devices are fast becoming a precious asset for parents. And as a good parent, you should understand what they are and how they can help you. This post explores what a baby monitor camera is, the features, the outstanding benefits you stand to enjoy, and a list of the top devices to get for watching your loved ones.
What Is The Baby Monitor Camera?
A Baby Monitor Camera is a device that allows you to check in on your little ones anywhere, anytime. Provided that there's an internet connection and the application installed, you can always know what's going on around your baby, even while you're cooking, at work, or just anywhere!
Asides from that, this fantastic surveillance device arrives with a host of features that help you further be in charge of your child's sleep, feed cycle, environment, and welfare. Let's look at some of the benefits to enjoy from baby monitor cameras.
10 Reasons Why A Baby Monitor Camera Is Needed
1. Watch Your Baby Effortlessly
Babies are sometimes restless. One minute they're calm, and the next, they're disturbed. But through every move and whimper, getting a baby monitor camera will help you check on them without stress! And if you just had kids recently, you'll appreciate it better as you can be aware of your loved one without leaving the couch, stopping an activity, or anything you were doing.
2. Make them fall Asleep
Have you ever wanted your kids to get a good night's rest, and they didn't? Sometimes, they become restless and would play past their bedtime, but no need to worry; with a good baby monitor, you can help them fall asleep. Here's how; those monitors come with lullabies of different types, which you can play when it's night time, and in no time, they'll doze off!
3. Interact with your baby
You're away from home, and you miss your little one? You've got no need to worry! Baby monitor cameras arrive with a unique 2-way talkback audio communication technology that helps you interact with your kids from anywhere. Use your voice to comfort them, hear them talk, and find out how they're faring.
4. Check the room temperature
While your baby is playing or having a nap, you can always check the room's temperature to know if they're safe with these baby monitors. They've got features that can detect the environment's temperature to help you determine if there's a need for change. Some devices also come with temperature alarms that notify you of the room's temperature whenever it goes off the grid.
5. Watch Your Kid without Turning on Light
At some nights, you may want to check in on your loved ones, but that may mean turning on the light now, causing a disturbance. However, with baby monitor cameras, you'll never have to worry, thanks to the night vision feature, which turns on automatically when it's late. Whether it's very bright during the day, or dark at night (without lights on), peep on your kids without disturbing their sleep.
6. Record Awesome Moments
One of the exciting features to enjoy about this device is that it allows you to record videos and memorable moments. The amazing part? You can share those recorded videos with our family members at any time!
7. Check Baby's Health and Symptoms
While you're away, your kids may develop an illness or show some symptoms. Worse is if you don't know, and how would you take care of them immediately? Whether it's seizures, Epilepsy, Asthma, or any other ailment, you can easily watch your baby's situation effortlessly with a baby camera monitor.
8. Monitor your child while you're away
Whether it's time to go shopping, make Rotisserie chicken, do the dishes, or any other things to do, you can rest assured of your little one's welfare thanks to these video camera devices. Most of them allow connectivity to the Internet through WiFi, and they have an application that you can easily download. These features will enable you to watch you watch your check on your child, provide assurance, and ensure everything's going all smooth and fine!
9. Always Be At Alert
Most high-class baby monitor cameras come with a voice activation function that instantly notifies you of any unusual noise in your child's room. With this, you can hear their every cry, and attend to their needs immediately it arises!
10. Keep to Feeding Schedules Perfectly
With a Baby monitor camera, you can easily set the different feeding schedules for your kid. A suitable device will come with plenty of sessions to select for feeding. You can now relax and keep on with your business when it's time, get alerted, and perform your roles correctly!
Can Baby Monitor Cameras Be Hacked?
The Baby camera monitor with Wifi, a kind of device that help you watch your loved ones at the go, use internet connection through Wifi for remote coverage, and as such, are vulnerable, which leaves most with the puzzling question; can baby monitor cameras be hacked?
Ideally, these devices cannot be hacked. But they're vulnerable to such if proper measures aren't put into place. Here's how to secure your video monitors from hackers;
1. Use Strong Password
Most surveillance cameras for babies work the minute you turn them in. Don't require you to put in any password during installation and instead uses default unbuild by the manufacturer. And this is where a problem can come in. To guess these codes are super easy, for example, 0000 or 9999, and to hack them, a breeze! But you can stop this by using a strong password that hasn't been used before. Make it hard-to-guess and unknown to any other person.
2. Set Security for Application
To monitor your child's environment from anywhere, you'll need to have the monitor's application installed and connected to the internet. This app also helps you track temperature, get reminders for feeding schedules, and lots more. However, anyone can easily have access to your phone and the application. To avoid this, check the security settings for the application, and set up a password.
3. Check Router/Modems's Security
If hackers were to get into baby monitors, they could do it through your internet. To prevent that, check the security settings for your router or modem and ensure they're passworded and secure.
4. Select A Non-wifi Baby Monitor
Another solution to wipe out the risk of being hacked is to use a non-wifi baby monitor. This type of baby monitor can work without wifi which means no other external connections.   
What's the Price of Baby Monitor Camera?
There are a plethora of baby monitors in the market with different functions, features, and offers. Searching through the market for an ideal one would be a hectic process, but we've simplified everything! Here's a list of the top baby monitor cameras and how much they cost:
| | | |
| --- | --- | --- |
| S/N | Baby Monitor Camera | Price |
| 1. | Heimvision HM136 Baby Monitor | $145.99 |
| 2. | Motorola MBP36XL | $141.99 |
| 3. | Arlo Baby | $155.00 |
| 4. | Eufy Spaceview baby monitor | $159.99 |
| 5. | Infant Optics DXR8 | $165.99 |
| 6. | Vtech DM223 Audio baby monitor | $139.95 |
| 7. | Nanlt Plus | $299.99 |
| 8. | Owlet Smart sock three and Cam bundles | $399.00 |
| 9. | Google Nest Cam Indoor camera | $128.50 |
| 10. | Infant Optics DXR6 | $132.51 |
Final Words
As loving parents, meeting up with your child's every need is a necessity. But, in times when you're away or probably involved in any activity, you'd like to check what they're up to and their overall welfare. Technology has made everything small simpler! With a baby monitor camera, you can watch their every move, cry, and even record special moments!
In this guide, you've come to know why a baby monitor camera is necessary as a parent. We've also given you a list of the best ones to get, and yes, their prices for better selection. Get yourself our Heimvision HM136 Baby monitor, and catch all your baby's activities effortlessly!
Related Post