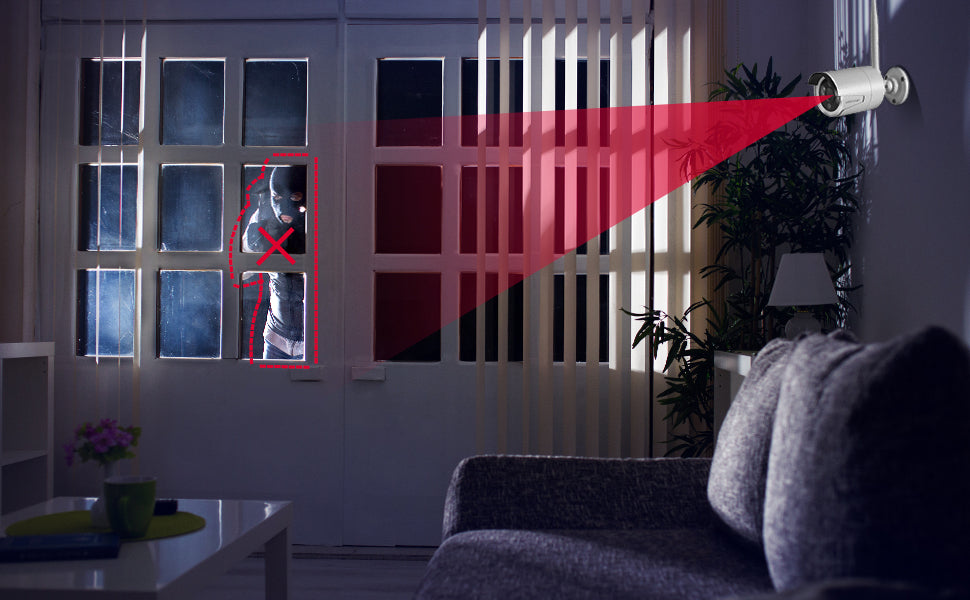 Everyone knows how important it is to keep a home safe. The right type of security can protect you, your loved ones and your possessions from burglaries and other types of potentially violent break-ins.
Fortunately, there are many things you can do to boost the safety and security of your home. Read on to find out some of the methods we recommend.
Surveillance Camera
A surveillance camera can be a great way to boost your home security. It can help you see potential burglars outside your home giving you a chance to act before they break in.
While a surveillance camera can act as a deterrent to burglars, it can also give them the idea that there is something in the house worth stealing. Therefore, small hidden cameras may be your best option.
Make sure the surveillance camera you use provide clear images so you can see what's going on and you are able to identify criminals for legal purposes if it comes to that.
Install the Right Locks
The right locks will also help boost your home's security. Mortice locks are recommended as they work in such a way that the door can not be opened by breaking a panel. All windows should have locks installed as well.
Don't Leave Valuables
in Clear View You never know when a burglar could be looking into your windows to find out if you are a good candidate for a robbery. Therefore, it's always best to keep valuables hidden from view.
Place jewelry, laptops, devices, money and large TVS in a location where they cannot be seen from the window. Avoid leaving large sums of cash in the house. Keep your keys in a place where they can not be accessed from the outside.
Consider getting a safe to store valuables so they are out of a burglar's view.
Make it Difficult for Anyone to Access Your Property
Remember, burglars are creative. You never know what they might be seeing outside your home that looks like a convenient way to break in.
A downpipe is a part of your roof's drainage system. It carries rainwater from a gutter to a drainage system or to ground level.
It can also be a great way for a burglar to break in.
Fortunately, you can boost the safety of your home by greasing your drainpipe so it's difficult for burglars to climb up it.
Gates can also be a deterrent. While leaving your gate squeaky might be annoying, it can also be a great way to tell if someone is trying to break into your home.
An Alarm System
When used in conjunction with a surveillance camera, an alarm system can give your home added safety and security.
Alarm systems use sensors that are activated when suspicious activity occurs. They then send out signals to a monitoring station, letting the user and the appropriate authorities know there is an emergency. The proper actions are taken in accordance to the type of emergency that is detected.
Use Flora and Fauna
A tall fence can keep a burglar out but it can be strategically cut or even climbed over if burglars have a helping hand from an accomplice. Tall bushes, on the other hand, are harder to cut and climb over. If they have thorns, climbing over them can also be a painful experience.
Lush bushes are also a great way to hide the exterior of your home, so burglars are unable to look inside and see your valuables.
Get a Dog
Nothing frightens a burglar like a guard dog. While almost any barking dog is enough to deter a burglar, you can feel confident that you are doing all you can to boost your home's security by getting one of these breeds:
Akita
Great Dane
German Sheppard
Bullmastiff
Doberman Pinscher
You will also be providing the dog with a great home while giving your family a terrific companion.
Of course, if you would rather not deal with the responsibility of having a dog, you can also have a recording of a dog barking that goes off when suspicious activity is detected.
Make Burglars Think You Are Home When You're Not
An empty house is especially inviting to burglars. Luckily, there are things you can do to give burglars the illusion you're home even when you're not.
Draw the curtains and blinds and turn on lights and the radio to give the appearance that someone is home. Leaving a car parked in the driveway is another effective way to make burglars think the house in occupied.
Don't Make Public Announcements You Are Going Out of Town
These days, everyone likes to use social media to keep their friends and acquaintances on top of their exciting lives. However, announcing that you are going out of town can be a great way to encourage burglars to break into your home. Even if you think that your network is full of trusted friends, you never know who will see your post and how easy it can be for them to track down your information.
I know you may be excited about your trip but try to refrain from bragging about it publicly. It's also best not to post those vacation photos before you get back.
Let Your Mail Service and Police Know When You Are Going on Vacation
When you are out of town, your mail will begin accumulating in your mailbox. If a burglar sees this, it will be the perfect way to let him or her know your home is unoccupied. Therefore, it is best to suspend services while you are going out of town. Avoid getting any deliveries during this time as well.
For added security, notify police that your house will be vacant.
Break-ins are an all too common occurrence. Fortunately, homeowners can do several things to boost the safety and security of their homes. However, installing a surveillance camera is always a great solution to keep temptation at bay. Get to know more HeimVision surveillance cameras click here. 
Related Post