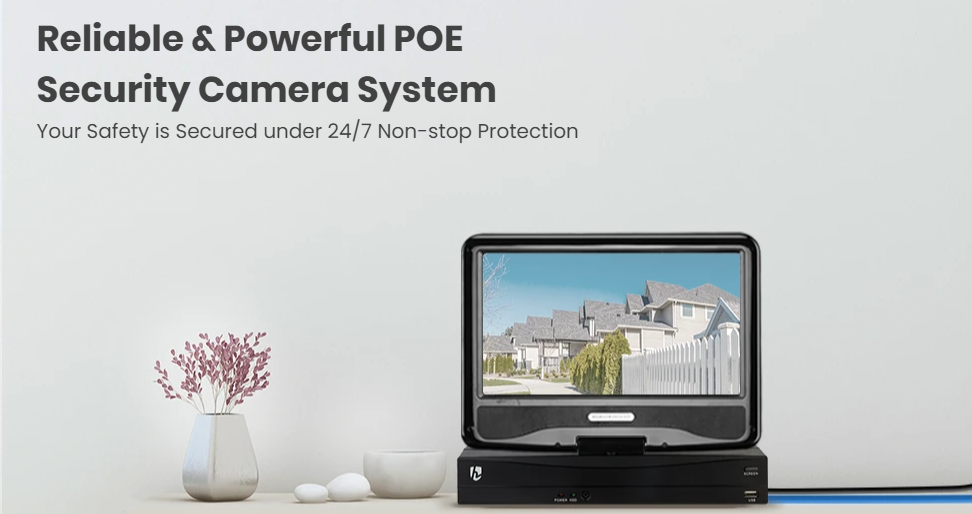 The use of POE security camera system for home safety is on the rise. Despite the plethora of surveillance camera types, many people prefer the POE, and almost everyone seems to be going for them. 
When you're done reading this article, you'll learn everything you need to know about POE surveillance cameras and systems, the mode of operation, factors to consider when buying, and yes, a recommended camera that'll give you the best experience when it comes to watching your property!
What is a POE Security Camera System?
POE basically means Power Over Ethernet. A POE Security camera is an innovation that allows a single Ethernet cable to transmit both electrical power and network connection to a recorder.
The problem with wired security camera system comes during installation. The process can get tricky because the system uses separate cables for power and network, and it'll be more complex if there are plenty of cameras to connect.
But with a POE security camera system, everything's all better! This type uses a single connection that'll work for both power and the network connection. Hence, there's no stress while installing!
POE Security Camera System Reviews
POE security camera systems have plenty of options for operation. Here are the different easy methods to set up a perfect surveillance system to monitor your property:
1. IP Camera + POE NVR + Router
If your router has a POE port, then you're in luck! You can easily connect the cameras using the POE Network Video Recorder (NVR) with an Ethernet cable, which will supply electrical power and data. Simply connect the POE NVR to the camera, the NVR to the power supply and router, and voila, everything's all set up! 
IP Camera + POE Switch
If you have a camera with a POE switch, then you're lucky as the setup process is a breeze! Simply fix the POE switch to the IP camera directly, and it'll give it data and power.
2. IP Camera + POE Injector
Does your camera network use a non-POE switch? There are no qualms as you can set up a POE camera system using the injector method- a longer process- but still very convenient. To set up, fix the Ethernet cable into the IP camera and POE injector. Then give data connection and power supply to the injector.
However, the POE injector allows one camera connection. So, if you'd love to use plenty of cameras, expect more cable connections. But this isn't a big problem as you can use a POE hub (has several camera ports), and you're good to go!
Consideration about Purchasing a POE Security Camera System
Before you head straight up to purchase the perfect POE camera system to monitor your property, there are some boxes you need to check. What are the specifications and features to be aware of? See all of them here:
1. Method of Installation
You wouldn't want to use a product with a stressful installation process, will you? Obviously, no, the reason why you should identify the camera accessories and the mode of installation. Can you do it yourself, or will you need the help of experts? Also, check whether they give instant support if any problem arises. All these will help to give you a good experience while using POE cameras.
2. Weatherproof Abilities
Outdoor and Indoor cameras are in some way different. Suppose you want an outdoor POE security camera system, ensure it arrives with the weatherproof property, which helps the camera survive rain, intense heat, and other harsh weather conditions.
3. Camera Resolution
To get a clear image and easily detect faces and other objects in the video, you'll need a high image resolution camera. And recently, that's not a problem as the best POE security camera systems give clear images- a trend to emulate. So before you hit the purchase button, check the camera's resolution.
4. Storage Space
Most POE security camera systems are equipped with HDD storage, while some aren't. If you use one that has HDD, ensure to check the storage space so you'll enjoy saving plenty of videos and files seamlessly!
5. Number of Cameras and NVR Ports
If you own a large apartment or property, you might want to set up many cameras all over the place for proper Coverage. In this case, before you buy a POE surveillance system, check the number of cameras it arrives with and also whether there are options to accommodate extra cameras.
6. Instant Alerts
Another thing to check is the method by which you receive notifications. If someone comes around your property, will they alert you through email, push notifications on application, or buzz from NVR? Find out!
Recommendation for POE Security Camera System- HeimVision HM541
Suppose you've ever bought a security camera. In that case, you'll know this: there are numerous camera brands and models in the market, and to select the perfect POE security camera system might be a challenging task.
But you've got no need to stress- to save you time, we've picked the best POE NVR security camera system- Heimvision HM541! This surveillance device is of top-quality and has numerous features that'll give you that extra peace of mind in your home.
Why Heimvision HM541 can be your Best POE NVR Security Camera System
Face and Motion-detection Plus email Alert:

if anyone comes around your property, the HM541 will detect the face and body movements, capture the picture and instantly send notifications through email/snapshot alerts. And yes, you don't have to stress about false alarms thanks to this feature.
IP66 Weatherproof Camera:

Neither drops of water from rain nor intense heat during the day can damage the HM541, all thanks to its IP66 weatherproof features. The cameras are also dust-tight and have a durable cover making It a superb choice for outdoor security!
Easy setup:

what's more relaxing about a POE camera system than having a fast setup process? Installing the Heimvision HM245 is like taking a walk down the park! All you need to do is connect the POE cameras to the NVR, plug the network cable from the router to NVR, give it power supply using the 24V/2A adapter, and that's it, you're all set!
Sharp 5MP HD Display:

with the HM541, you can clearly watch happenings in your environment without any dull moment thanks to the 5MP HD camera resolution recording in 1920P. What more, you can trap awesome moments using the 4X digital zoom!
Remote Coverage:

you get to enjoy remote access to live view and recorded videos from anywhere and at any time using the Heimkits application on phone or Eseecloud on PC. Simply install, put in your device ID, and voila, you can now watch your property remotely!
8-channel NVR plus 10 inch LCD Monitor:

regular POE security cameras c with four ports for the cameras. But the HM541 has 8! Hence, you can connect cameras for better Coverage in your home security! It also has a 10-inch monitor, which is adequate for your viewing pleasure.
Night Vision

: another peculiarity about the HM541 is its ability to show clear and fuzzy images at night. Once there's little light, it'll automatically turn on the night vision mode.
In all, the Heimvision HM541 is a top-choice if you want a budget-friendly POE security camera system with easy remote access, HD pictures, sensitive motion detection, and instant alerts!
We can go on and on to identify the exceptional features of this awesome Heimvision model. Still, we would stop here, and let you see for yourself, the amazing experience to enjoy from a great POE surveillance system!
Final Thoughts on POE Security Camera System
POE Security camera systems prevail over others due to their fast installation, low-cost, simplicity, and functionality.
To get started, you may be confused due to the plethora of products in the market. But through this guide, you've not only learned what POE is, how it works, and benefits, but you've also known the perfect device to purchase!
We hope that this guide will help you understand all about POE surveillance camera systems and get the best one to monitor your property and enjoy a quality experience.
Related Post